Nibbler Cuts Forward and Backward
March 1, 2008
Trumpf, Farmington, CT, will exhibit its N700-2 nibbler, which can rotate the punch guide and allow the nibbler to cut in a backward direction. This allows the operator to pull the tool toward him, an excellent safety feature. The N700-2, reportedly the world's smallest and lightest nibbler in the heavy-duty class, comes standard with two different handles that quickly can be exchanged; punch changes require no tools. Use the nibbler in a variety of applications including coil applications, sheetmetal fabrication and building maintenance.
See also: TRUMPF Inc.
Technologies: CNC Punching

Cutting
MC Machinery Launches Podcast Series—"Minds on Manufacturing...
Monday, December 28, 2020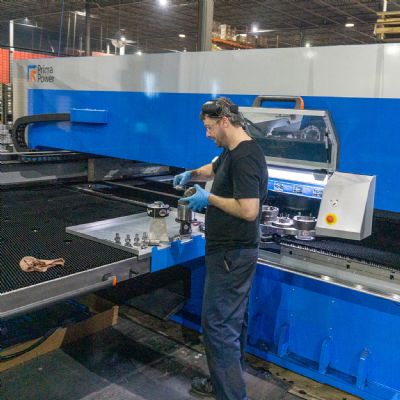 CNC Punching
Tooling Up for Maximum Punch Productivity
Tuesday, December 1, 2020

CNC Punching
Mate Precision Tooling Expands into Precision Machining, Ann...
Wednesday, September 2, 2020