Cutter Kit for Magnetic Drills
November 1, 2019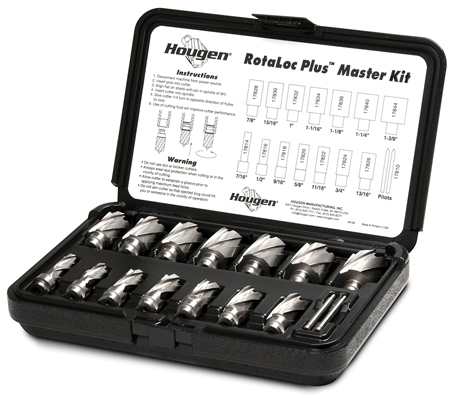 Hougen Manufacturing, Inc. has released a new annular cutter kit, The RotaLoc Plus Master Kit, containing 14 sizes of Hougen RotaLoc Plus cutters in the most popular sizes. Inch-diameters included in the kit: 7⁄16, 1⁄2, 9⁄16, 5⁄8, 11⁄16, 3⁄4, 13⁄16, 7⁄8, 15⁄16, 1, 11⁄16, 11⁄8, 11⁄4 and 13⁄8. The kit also includes two pilots, with all kit tools individually protected in a plastic case to safeguard cutting edges from collisions and damage.
The cutters, made from M42 high-strength steel, are precision-ground for hole making in materials to 1 in. thick. They feature bayonet-style shanks that allow quick change of cutter sizes in seconds without the use of tools. Stack-cut geometry on the cutting teeth allow for drilling through single plate as well multiple steel pieces. The cutters can be resharpened multiple times.
The RotaLoc Plus Master Kit provides an ideal complement to the ultra-low-profile HMD130 magnetic drill, but the cutters also can be used on standard magnetic drills via an optional adapter.
See also: Hougen Manufacturing Inc.
Technologies: CNC Punching