New Punch Options Provide Increased Flexibility in Profile Nibbling
October 1, 2012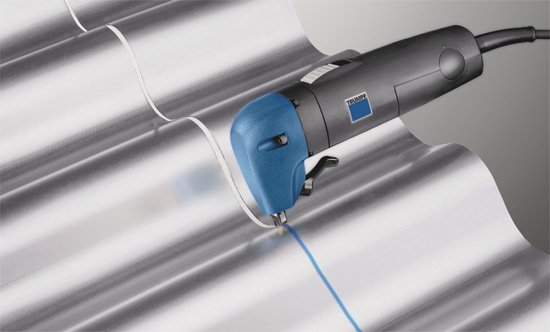 Thanks to new punch designs, the TruTool PN 130 nibbler from Trumpf Inc., Farmington, CT, proves ideal for profile, corrugated and flat-sheet cutting often found in roof and façade construction, plumbing and the heating and air-conditioning industry. A new standard feature of the profile nibbler is the HighSpeed punch, which achieves quality cuts at a working speed of 10.5 ft./min. When the highest-quality cut is needed, the specially developed HighQuality punch supplies an extremely fine cut edge, produced at the slightly slower rate of 9 ft./min.
The ergonomic design of the electric nibbler, combined with a slim, lightweight and vibration-resistant structure, allows users to cut sheets as thick as 0.05 in., with optimum comfort and flexibility. The maneuverable tool is capable of cutting radii as small as 1 in., even in difficult to reach places.
A specially designed tool carrier provides for fluid movement, and cutting direction can be adjusted 360 deg. for maximum flexibility. The quick tool-change feature permits the tool to be replaced in seconds.
Trumpf: 860/255-6000; www.us.trumpf.com
See also: TRUMPF Inc.
Technologies: CNC Punching, Fabrication