Mobile Pneumatic Tapping Arm
August 1, 2018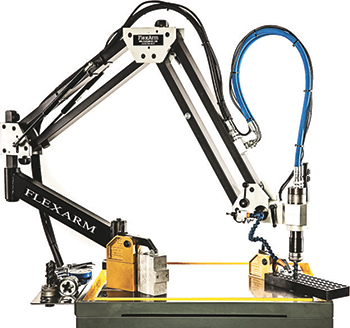 FlexArm, Inc. has introduced the FlexArm mobile tapping package, which allows operators to tap holes offline as a secondary operation while primary production lines work on other parts.
The comprehensive package includes the FlexArm GH-18-1 tapping arm with a tap capacity of #6 to 5⁄8 in., reach from 17 to 72 in., variable speed from 100 to 420 rpm, 360-deg. movement and a semi-automatic tap lubricator. Additionally, with a caster cart, power pack, tap stand and five tap holders, this hydraulic tool can be used wherever a 110-V electrical supply is available—no air needed. The setup offers rapid set-up times and significantly reduced tap breakage, making the FlexArm an ideal alternative to tapping holes manually or via CNC.
With a tap breakage rate of 1/3000 holes, compared to 1/300 holes on a CNC, FlexArm tapping arms can significantly reduce setup time, cost and scrap rates, according to company officials.
FlexArm, Inc.: www.flexarminc.com
See also: Flexarm Inc., Division of Midwest Specialties
Technologies: CNC Punching