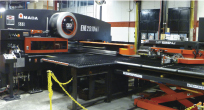 Automatic load/unload of the new CNC turret punch press allows Durex to run the machine lights out, minimizing overtime costs while enjoying double-digit growth in 2010.
"We're like a good utility baseball player," continues Denholtz, an analogy that points to his company's ability to be a jack of all trades. "We can allow an OEM to transition from multiple vendors and roll them into one diversified supplier. We can make a part one-off in a laser for example, and move to a blanking die in a stamping press. Those stamped blanks might then route to a press brake for forming, or move to a hard tool for stamping depending on order quantities. Vendor consolidation is a trend that's here to stay, and we're positioned to be a vendor of choice."
A key component to not only getting on the preferred-vendor list but to staying on it is meeting (or exceeding) customer expectations for quality and delivery. In this regard, Denholtz shares another key management decision:
"I don't like to get painted into a corner with our equipment capacity and capabilities," Denholtz says, noting how uncomfortable it can be when production of a certain component or assembly depends on the availability of one machine, be it a laser or stamping press. "We outfit our shop so we have backup equipment capable of producing anything that needs to get done, should a machine be down for maintenance."
New Equipment Acquired on a Dice Roll
Most recently, the firm's capital investments to avoid being "painted into a corner" included acquiring two new pieces of sheetmetal-fabricating equipment from Amada—an EM2510NT CNC turret punch press, with an automatic load/unload system for lights-out fabrication; and an Apelio III combination CNC turret punch press and laser-cutting machine, the second Apelio Denholtz has installed in the Durex shop.
"I bought the new stand-alone turret press late in 2008 for two main reasons: to boost employee morale, by showing that I would continue to invest in the company even during challenging economic times; and, to impress potential customers as they toured our company and considered contracting our services."
Denholtz recalls that late in 2008 the new machines sat relatively quiet for a few months. That changed early in 2009 when the shop was contracted to fabricate power-supply chassis. Chassis sheetmetal is 0.090-in.-thick aluminum, heavily loaded with perforations, and the high-speed EM2510NT turret press proved the perfect machine for the job. The press boasts (says Amada) a newly designed AC servo-direct twin drive that provides a maximum hit rate of 500 hits/min. on 1-in. centers, and an 1800-strokes/min. marking system. Its 100-in. x-axis table can process 8-ft. sheets without repositioning.
"And, the automatic load/unload system (Amada's MP 1225NJ unit) allows us to run unmanned overnight," says Denholtz, "reducing our overtime hours. That's been key as we've been able to keep our costs under control while still enjoying double-digit growth."
The twin-pallet load/unload system removes and stacks each punched sheet from the press, and then loads a new sheet at a cycle time as quick as 34 sec. It can handle sheet 24- to 10-gauge thick in blank sizes to 4 by 8 ft. Pallet capacity: 4400 lb.
Order Volumes Double—Time for a New Strategy
The power-supply chassis job originally came into the shop with a production quantity of 400/week, also a perfect fit for the company's metal-fabrication department. But over time, order volumes for the chassis have more than doubled, nearing 900/week at times. Time to move it to a hard-tooled stamping operation, says Denholtz.
"The 2510 excels at high-speed long-running jobs, at up to 1500 parts/month or so," he says, noting that the machine is "twice as fast as some of our other turret presses. However, as order volumes climb, like they did with the power-supply chassis, we can look to save our customers a lot of money by hard tooling the jobs for stamping.
"In this case, Denholtz continues, "moving chassis production to a hard tool for stamping will reduce our customer's costs by 25 percent. The part, with so many perforated holes, requires a lot of turret time; payback for the stamping die will come in at about eight months."
A Healthy Uptick in 2010; Plans for an Even Better 2011
Denholtz expects that by the end of the year, Durex will have shown 30 to 40 percent growth compared to 2009, noting that the business uptick has resulted in part from two recent acquisitions: family-owned custom metal-fabrication shop P. Feiner & Sons, in Bogota, NJ; and Sternvent Co., a manufacturer of dust-collection systems for the wood, metal-finishing, chemical and pharmaceutical industries. The acquistions join Durex's existing inhouse product lines, Creative Serving and White Rail. (Learn more at www.durexinc.com.)
"All of the fabrication for P. Feiner & Sons' accounts, as well as for the Sternvent dust collectors, has moved over to our facility," Denholtz adds, providing plenty of new work for his burgeoning fabrication shop. MF
Industry-Related Terms:
Blank
,
Blanking
,
Case
,
CNC
,
Corner
,
Die
,
Forming
,
Hard Tooling
,
LASER
,
Lines
,
Model
,
Pallet
,
Prototype
,
Punch Press
,
Run
,
Transfer
,
Turret Press
,
Turret
View Glossary of Metalforming Terms
See also: Amada North America, Inc
Technologies: CNC Punching, Cutting