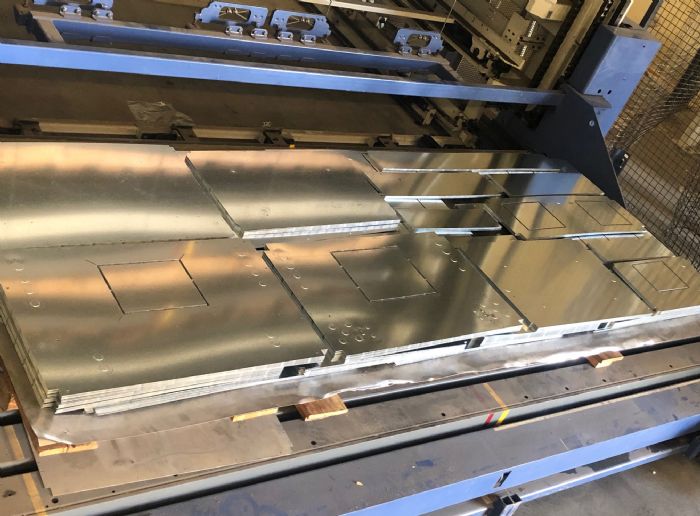 "The primary cause of bottlenecks in our sheet metal production area," Robles recalls, "was manual shaking operations to separate the parts from the nests. Also, the machine controls only store 26 programs—14 programs if they are more complex. That limitation made unattended operation challenging at times. And, the sheet loaders could only handle one skid of material (50 sheets), which limited our lights-out processing."
To take its sheet metal production capacity to the next level, Robles and the WCP management team went in search of a fully automated system without such limitations. Having seen a Muratec system operating at its sister company, Phoenix Manufacturing, "we turned there first, and Murata worked with us on developing a custom system unique to our needs," Robles says. "We shipped all of our punch tooling to Murata headquarters in Japan and provided several of our CNC part files so that Murata could run our parts using our tooling at its facility."
WCP fabricates primarily 20-gauge galvanized-steel sheet in its fan-coil HVAC department; other materials of choice include 18-gauge galvanized, and 20- and 18-gauge cold-rolled steel. Programmers create new sheet nests every week, mostly using repeat parts. A typical production run through the Muratec cell might include 200 to 300 sheets of 20-gauge galvanized—four or five pallets of 50 sheets each.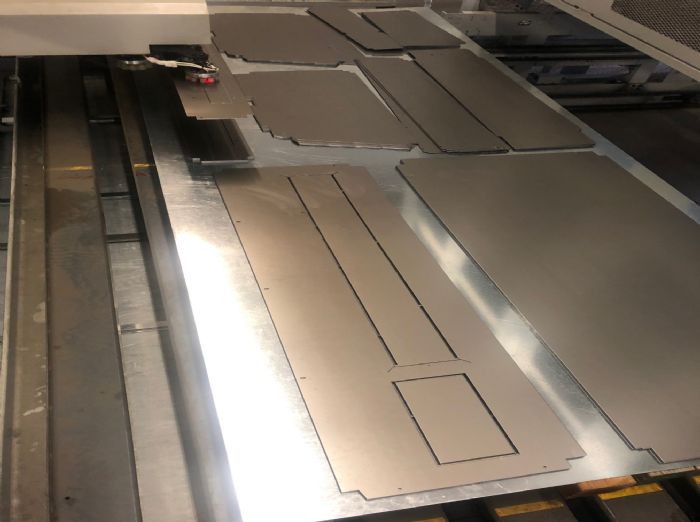 "We have thousands of part numbers," says Robles. "We are a custom manufacturer, producing in batches. We can download a set of programs and nests (WCP uses Striker Systems nesting software to program the Muratec cell) to the CNC and fill the material-storage towers, and walk away and let the cell run—the longest run we've had is 96 hr., where we loaded it up on a Friday morning and on Monday it was still running."
About the Production Cell
At the heart of the production cell is a Fanuc Series 31i-PB CNC, which among other features includes first-part processing from a multiple nest—if the first part passes inspection, the machine then is allowed to produce the remaining parts in the nest, saving inspection time. The operator HMI provides an efficient environment for managing tools and NC programs to reduce setup times and increase machine availability for automated production.
Online remote support is provided via ISL Online client software, which connects the machine to the Murata applications and service groups, to provide training, and HMI and machine troubleshooting.
The turret press (model M2548TS) provides 25 metric tons of punching capacity over a 1.3-in. ram stroke. It can handle a maximum sheet weight of 330 lb., with sheet-thickness capacity to 0.25 in., and can punch a 4.75-in.-dia. hole in 0.074-in.-thick sheet (1.4-in. dia. in 0.25-in.-thick sheet). Table travel: 100 by 63 in. The turret boasts 46 stations for punching and forming operations, including four auto-indexable stations rated to 15-metric-ton punching capacity. In addition, a secondary punch head mounted outside of the turret separates parts from the skeleton and allows them to be picked up by the part sorter.
"We run a 20-station Wilson Multi-Tool and an eight-station Multi-Tool," Robles explains. "Again, we bought all of the tooling (all from Wilson Tool) before the machine arrived and shipped it to Japan for machine runoff so that we could see it making our parts using our tooling."
Process Monitoring
Included with the cell is Muratec's ProcessNet monitor software package, which provides a user dashboard that displays current machine status, and graphs showing daily and monthly production data (categories include Process, Setup, Alarm and Standby), and alarm downtime.
"It also sends out e-mails to registered addresses at the time of each alarm occurrence." Robles says. And, the operator dashboard includes a tool-life management feature that displays a punch and die hit-count monitor, providing a colored visual indicator that alerts our operators as to when to inspect the tools and ensuring timely tool maintenance."
Material flows through the cell left to right, starting at the eight-drawer blank-storage tower (model FS3012T), with 2-ton pallet capacity and blank-size capacity of 4 by 10 ft., by 0.177-in. sheet thickness. The fully automatic load/unload setup can unload sheet to the back side of the tower for storage, providing an efficient means to process larger cut-to-size parts or panels that don't require sorting.
When automatic operation starts, the stocker retrieves the material pallet from the drawer specified in the schedule and positions it to allow the loader to pick up the top sheet using pneumatic vacuum pads. Magnets fan the material during this operation to prevent double-sheet pickup, and the loader transports the sheet to the press table for punching.
After punching, the remnant is positioned to the right side of the machine where the unloader unit uses flip-down grippers to grip the skeleton on its edge and pull it back into a skeleton box. finished parts move via suction-cup-equipped automation to a nine-drawer storage tower (model FG3012T). The NC program not only has all punching codes for the nested parts, but also has additional codes generated by the software nesting system for controlling the pickup and unloading of parts. Two drawers hold remnant skeletons, and the other seven drawers store finished and automatically stacked parts.
Estimated cycle times, per Murata documentation: 75 sec. for sheet loading, 10 sec. for part picking and 120 sec. for pallet exchanges.
How Productive is the Line?
Reflecting back to when operators spent hours upon hours shaking out parts from the firm's older turret punching machines, and recalling that they could only load one pallet of material onto the machines, Robles takes a deep breath when asked to quantify just how much more productive the Murata cell is.
"I'd say we're getting at least two to three times the productivity from that cell, compared to how we used to fabricate our sheet metal," he says.
In fact, the automated punching line has been operating so efficiently, Robles explains, that the plant has begun to move some of the jobs running on stamping presses over to the line. "We're doing the time studies now," he says. "We believe that we can fill in some of our nests with smaller stamped parts and improve our material utilization." MF
Industry-Related Terms:
Stroke
,
Turret
,
Thickness
,
Turret Press
,
CNC
,
Die
,
Download
,
Edge
,
Forming
,
Grippers
,
NC
,
Nesting
,
Pallet
,
Punch Press
,
Ram
,
Run
View Glossary of Metalforming Terms
See also: Muratec Murata Machinery USA, Inc.
Technologies: CNC Punching