Automated Turnkey Swaging Solutions
October 2, 2019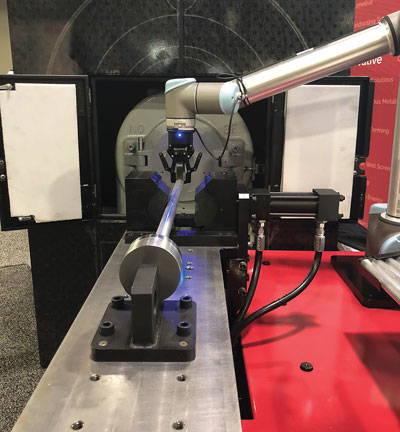 Fenn
Booth D46456
Fenn highlights its automation capabilities with its turnkey rotary swaging solutions. From the robotics, to the sound enclosure, hydraulic feeder table and rotary swager, Fenn provides all of the equipment and integration for a simple-to-install/use solution.
Dozens of add-ons and secondary operations are possible, such as laser engravers, cutters, buffing systems and welding systems. The technology improves equipment safety, reduces time in setup and production, and reduces operating costs by maximizing efficiencies.
In addition to swagers and customized solutions, Fenn offers a full line of metal forming machinery that includes spring coilers, drawbenches, turks heads, rolling mills and wire-shaping lines.

See also: FENN-Torin Metal Forming
Technologies: Bending