Robotic Bending System Features Automated Tool-Changing Press Brake
January 26, 2021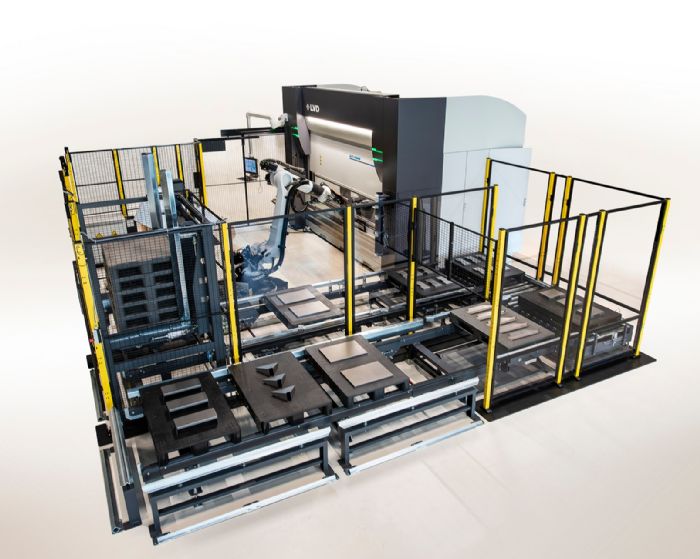 LVD North America has debuted Ulti-Form, a robotic bending system featuring an automated tool-changing press brake. Ulti-Form, following the company's Dyna-Cell robotic bending cell, takes automated bending technology a step further, according to company officials, by incorporating the automated tool-changing press brake that handles both small batches and long production runs efficiently with minimal changeover time.
Ulti-Form features a 135-ton press brake designed using LVD's ToolCell platform and integrated with an industrial robot. The press brake houses a built-in tooling warehouse and uses a gripper mechanism in the machine's backgauge fingers to quickly change tools. As the robot picks the first workpiece from the input stack and centers it, the press brake completes the tool change. Ulti-Form handles parts from 1.9 by 3.9 in. to 47 by 31 in. and weighing to 55 lb.
Courtesy of a programming wizard, programming of both the press brake and robot is handled offline, with no robot teaching is required. Cadman-B software automatically calculates the optimal bend program. The software imports all bending data and automatically calculates all gripper positions, taking into account the gripper force, collision detection and robot reachability. It then generates the fastest collision-free path for the robot across the complete bending operation, according to LVD officials. The system's database contains all setup information needed for the press brake and robot to quicken production.
The Ulti-Form robot gripper, an auto-adapting design, has the flexibility to accommodate a number of part geometries, automatically adjusting to the workpiece size. This allows a series of different part geometries to be processed without the need for a gripper change, thus enabling continuous and uninterrupted production.
See also: LVD North America
Technologies: Bending