Excellence at Marwood
December 1, 2007
The MASC was in front of me and it was marvelous. MASC stands for the Marwood analog sensing cart. Composed of four basic components—a cart on wheels, a computer, a touch screen and an easily interchangeable set of fixtures—the MASC is a self-contained mobile part-dimensioning station meant to be used by a press operator for gathering critical dimensions on stamped parts. It is, without reservation, among the highest levels of press-operator automated part-quality fixturing that I have ever encountered.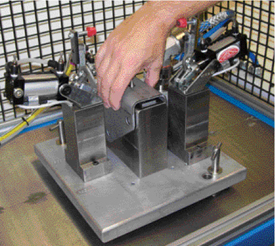 An operator at Marwood places a stamped part in the MASC fixture.
Prior to its implementation, the press operator would check the part with a simple go/no-go fixture, relying on his ability to properly mount the part on the fixture and interpret the best fit with probing blocks. The procedure was slow, taking about 2 min. for a test to be conducted. The sampling rate was spaced at 15 to 20 min. apart and, being a go/no-go gauge, there were no dimensional readings. If the part dimensions fluctuated but were still within the specifications, the toolroom had no inkling that characteristics were changing in the die or strip. With the MASC, the toolroom and anyone else on the network will be aware and make the necessary provisions and corrections on a proactive vs. reactive mode.
The MASC takes about 20 sec. to do its job. As you can see in the photograph, the operator simply places the stamped part by hand, and without a need for precision, on the fixture and its large locating pin. Next the large button on the touch screen is pressed and the part is clamped with air cylinders into its precise measurement position, followed by the display of the dimensions on the same screen (see the photo on the next page). It's that simple.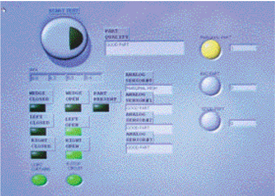 The MASC touch screen displays part dimensions.
The MASC can be wheeled anywhere near the press that is making the part, making it extremely easy to find space for it while affording ease of use and convenience for the operator. It automatically logs the dimensions and is designed to easily network with the company's servers for the distribution and storage of the gathered data.
The MASC was designed and built by Jake Fehr, sensor applications specialist, and Shawn Schaefer, controls technician, at Marwood Metal Fabrication Limited in Tillsonburg, Ontario, Canada. In describing the MASC, Fehr, stated that it "will give four measuring points that not only give an indication of the part quality, but the wear of the tooling as well, showing the toolmakers where they need to make their adjustments." Schaefer, with the typical reserve of a focused and brilliant programmer, further elaborated by highlighting the personal computer-based software package that is at the heart of the system, "the versatility of Labview offers great programming and creativity opportunities, something that I find very challenging and rewarding, especially when I see the final product."