Decline Ahead for Automotive Tooling, Predicts Study
November 2, 2018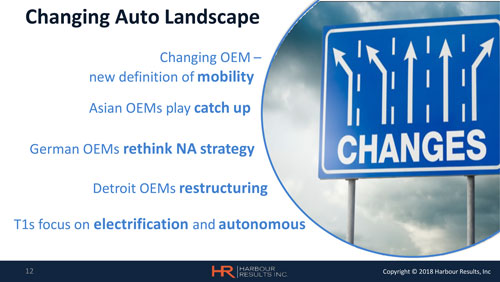 The state of the automotive tooling industry looks sluggish for 2019, according to a study released earlier this week by Harbour Results, Inc. (HRI), a Southfield, MI-based advisory firm specializing in the manufacturing industry. The analysis predicts that 2019 spending on automotive tooling will fall to $8 billion, a 29-percent decline compared to 2017 and a 15-percent drop when compared to 2018 projections.
The key factor driving decreased tooling spend: fewer North American vehicle launches. From 2016 to 2018, Detroit's Big Three (Fiat Chrysler, Ford and General Motors) as well as Asian and German OEMs launched 183 vehicles. That number is expected to decelerate to 155 for 2019-2021.
"The industry experienced a boom in 2017 with $10.3 billion spent on tooling and, based on the data, we expected 2018 to surpass $11 billion," explained Laurie Harbour, HRI president and CEO, during a press briefing. "However, due to a number of vehicle cancelations and delays, we are predicting the year to be closer to $9.2 billion. The industry is $2.2 billion below forecast through first three quarters of 2018, resulting in a six-point dip in tooling shop utilization to 79 percent."
In addition to fewer launches, other reasons cited by HRI include new consumers who no longer see car ownership as a necessity and the peaking of mature car leases in 2019, resulting in an influx of newer used cars.
Dip Expected to Level Off
HRI anticipates that some of what was planned for 2018 will spill into 2019 to help level out tooling spend for the next three years. In addition to the 2019 forecast, Harbour IQ estimates future North American tooling spend to remain relatively stable, with 2020 totaling $8.2 billion and 2021 reaching $9 billion, though certain factors bring uncertainty.
"This forecast is based on current data and information," says Harbor, "but issues such as tariffs, automaker restructuring and/or a possible recession could drastically impact the forecast, resulting in a dip in tooling spend by as much as $2 billion. As the tooling market contracts, it is important that shops, specifically small shops that benefited from the increased outsourcing in 2017, prepare for the future. To remain competitive, shops should continue focusing on improving operations, making sound investments in people and technology, and performing strategic planning to remain competitive in the near and long term."
Moreover, as the global industry slows, Harbour stresses that toolmakers now relying on the automotive industry for much of their business "really need to diversify."
Traditional automakers are doing just that as they restructure and pursue electrification, autonomous vehicles and other unconventional revenue streams.
"OEMs such as Ford, Fiat Chrysler and General Motors," says Harbour, "could become private-label suppliers of vehicles to companies like Waymo (formerly the Google self-driving car project), Lyft (the on-demand transportation company) or Maven (the car sharing service)."
Technologies: Bending