Cobot Takes on Gas-Metal-Arc Welding
February 21, 2018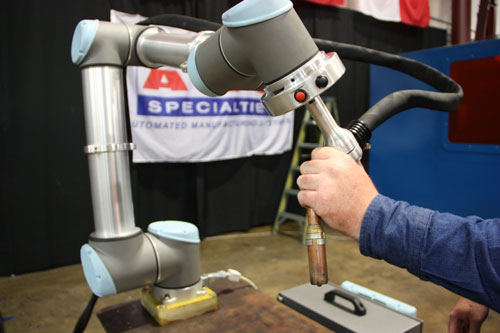 The new SnapWeld collaborative-robot (cobot) welding package developed by Arc Specialties Inc. and Universal Robots can be deployed easily and flexibly in existing manual-welding booths, eliminating the need for new robotic cells.
"We are getting a lot of requests for integrating Universal Robots in welding booths, so we saw this as a unique opportunity to develop an integrated low-cost system for gas-metal-arc-welding applications that no one else in the market is currently offering," says John Martin, vice president of Arc Specialties.
SnapWeld debuted at FABTECH to high interest, with attendees able to grab a Universal Robots UR10 robot arm and perform stitch welding by teaching the robot start and stop points, as well as the number and length of the stitch weld. The SnapWeld system moves along the start and stop path and weld only during specified stitch areas, reducing robotic programming from hours to minutes.
The welding system integrated with the UR robot is comprised of a Profax wire feeder and water-cooled torch enabling welds to 600 amps, with torch bracket, all cables and hose packages included. The simplified programming is enabled by direct software integration into Universal Robots' own programming environment through the Universal Robots+ platform, which allows users to program advanced settings directly on the teach pendant that comes with the robot. Settings include features such as wire-feed speed and burn-back time, gas-flow time, and crater-fill time with instant feedback on welding volts and amps.
See also: Universal Robots
Technologies: Bending