Tack Welding Eliminated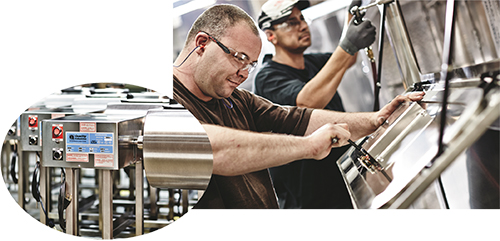 Parts produced at Quality Industries are assembled for delivery to customers in industries including heavy transportation, alternative energy, electrical enclosures, and towing and recovery equipment.

One example: the addition of a Panasonic dual-robot turntable using welding equipment from Miller Electric. Previously, tack welds provided by human welders held parts together for welding of the assembly via an older robot. Testament to the company's forward thinking, engineers developed what they refer to as "no-tack fixtures" to work in conjunction with the dual-robot setup.

"Now we load the fixtures and the robots perform all of the welding," explains Fann, noting that as the dual-robot cell welds, personnel load parts into a second fixture for welding as soon as the previous assembly is completed. "This setup has allowed us to greatly increase capacity for the solar product."

That cell was tailor-made for processing thicker steel, according to Ken Ham, Quality Industries' vice president of engineering and technical services.

"The water-cooled, higher-amperage torches use large-diameter flux-cored wire, allowing us to run a faster welding rig than is possible on some of the other equipment we have here," Ham explains.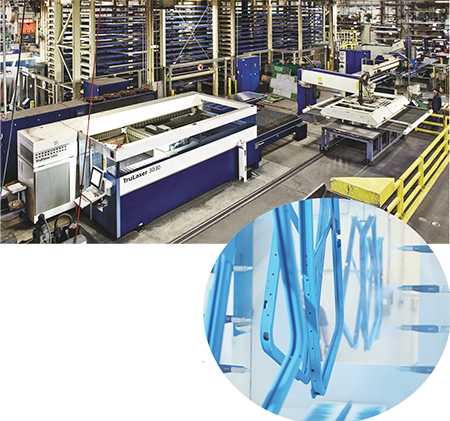 Besides robotic welding, Quality Industries' capital program includes investment in a new powder-coating line (right), CNC punching and laser-cutting machines (top), stamping presses and more.

Seam-tracking technology improves quality and productivity in this cell.

"We deal with a lot of part variation," Ham says. "A single assembly, made from two L-shaped brackets, requires 32 in. of weld. The brackets mate to each other, and when angles vary, even just a little, from bracket to bracket, we would have to perform a large amount of rework. With seam-tracking, the torches find the joint even if the angles vary by 1 deg., and stay dialed in to perform good welds."

"The real challenge for us is making sure that material movement and flow around those areas are improved," adds Fann.

Efforts are underway to do just that. In adding to its robotic-welding roster, Quality Industries has sought to commonize its equipment, according to Ham, to ease training, maintenance and operation, and to better standardize and simplify fixturing to improve workflow.

"We are trying to be smarter on the fixturing side, making sure that the fixtures change out easily and frequently, but that they also are inexpensive to make," he explains. "As we run parts through the shop, we want to run them as smoothly and quickly as we can from start to finish, so we can't have multi-hour setup times. We must build these fixtures to have the parts in and out in 15 or 20 min., weld a batch of parts, know that they are consistent, and then move on to the next batch."

Robots Assist in Low-Volume Work

Though robotic welding is thought of as most applicable to higher-volume applications, Quality Industries also has incorporated the technology into a low-volume workcell.

"A single robot handles three work zones in this cell," says Ham. "We constructed the cell so that we can weld in any one of the three zones with changeover and setup taking place simultaneously in the other two. This allows us to run lower-quantity jobs across a robot and still stay efficient.

"When we have huge volumes," he continues, "we can justify building $30,000-40,000 weld fixtures for robotic welding. With this cell, we build less expensive fixturing to make robotic welding economical instead of just sending these low-volume jobs to a bench and performing manual welding. We will continue to look for ways to build fixturing and employ robots for lower-volume jobs throughout our operation."

Capital Program Tackles Various Processes

The enhanced welding capabilities are part of Quality Industries' $12.5-million company-wide capital program, undertaken to significantly bolster efforts to better serve customers and achieve growth, while improving overall quality and efficiency.

Recent updates also include a complete stamping-press rebuild and installation of a quick-die-change system. Also, the company acquired a new Stamtec OCP-260-L 286-ton single-point gap-frame press. The press is served by a Tomac TLN2-300 compact servo-driven feed line. Stamtec supplied and installed the feed line and press.

Investment doesn't end there. Quality Industries also added a new powder-coating line and Trumpf TC5000 CNC punching machine. And, the company soon will be installing an Amada EMK turret punch press at its Denton, TX, facility. MF

See also: Miller Electric Mfg. Co.

Technologies: Bending, CNC Punching, Cutting