Robotic Bending Cell with Electric Press Brake
January 1, 2019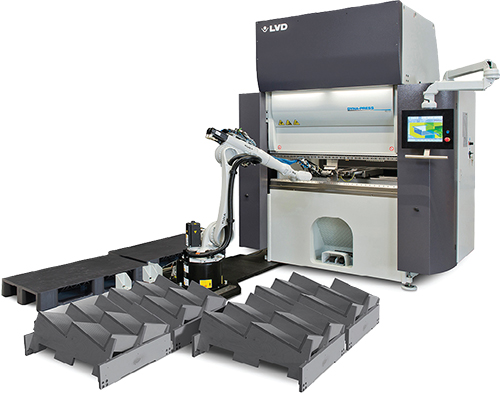 New from LVD Strippit, the Dyna-Cell, a robotic bending cell featuring a high-speed electric press brake. The press brake and robot function as a compact, integrated unit to automate the bending of small- to medium-sized parts in varying batch sizes at bending speeds to 1 in./sec.
The cell combines the Dyna-Press Pro 40-ton press brake with 59-in. working length and five-axis backgauge with a Kuka industrial robot in a footprint of only 16 by 16 ft. It allows for attended or unattended production, incorporating a stacking area and space to load and unload several pallets, with finished parts offloaded by the robot onto the appropriate pallet. When bending a large volume of small parts, no operator intervention is required for as long as 8 hr. of automated production. When batch sizes are too small to benefit from robot automation, the robot can be placed in a park position and the press brake used in standalone mode.
The robot features a unique LVD-patented gripper, which fits part sizes from 1 by 3.9 in. to 11.8 by 15.7 in. Its compact size allows it to handle small parts and travel between tool stations. Users can make bends on three different sides of a part without regripping. Offline software controls gripper suction cups that activate according to part size. Also, Dyna-Cell offers rapid programming of part and robot following the 10-10 rule: 10 min. for CAM generation of the bending and robot program and 10 min. for setup and first-part generation.

See also: LVD North America
Technologies: Bending, Pressroom Automation