Press Brakes and Automated Bending Cells
October 2, 2019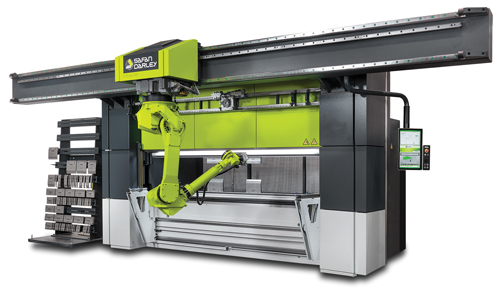 SafanDarley
Booth A2988
At FABTECH, SafanDarley focuses on bending, including stand-alone machines such as electronic and hybrid press brakes, as well as R-Brake and E-Brake Mini Cell automatic bending systems.
The R-Brake (pictured), a bending-cell concept based on the SafanDarley E-Brake Ultra press brake, integrates the press brake and robot into one system. In addition to advantages, such as a completely clear floor area in front of the machine, the R-Brake can be equipped with an automated tool- and gripper-changing system. This also makes the R-Brake suitable for smaller batch sizes. And, the cell can be switched quickly to manual bending.
The compact E-Brake 35-ton Mini Cell is ideal for bending smaller-sized parts. The optional automatic tool- and gripper-change function enables quick switches between different products.