"Custom fabrication is a large part of our business, as we supply chutes, conveyors, furnace casings, hoppers, storage tanks and more," Zeiter says, noting that the 400-ton press brake is Swanton's largest. "We like to do as much as we can inhouse, and the addition of this large brake allows us to produce the large parts we need for these bigger projects."
Indeed, once Swanton receives blanks, beams and more from its material suppliers, everything else leading to the finished product is an inhouse production, with a job-traveler system helping to ensure smooth workflow.
Inhouse Capability Provides More Control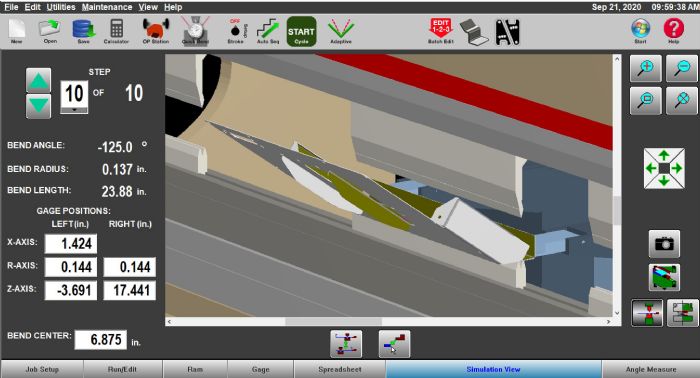 "We want to control the entire process so that we can be sure to meet lead time and quality expectations," says Zeiter. "The 400-ton press brake helps us do that by giving us more capability in producing larger parts without having to ship out any work."
One reason, offers Zeiter, for doing as much as possible inhouse: improved fitup, especially important with custom work.
"I believe we can produce more accurate parts that fit together into final products if we have everything under our own control," he says.
Outside suppliers may employ processes and work and storage environments that can affect fitup adversely during product assembly. Even shipping may introduce variabilities in the delivered parts. Added costs for outsourced work, part storage and shipping also incentivize Swanton to tackle as much as it can.
Delivers Accuracy, Reduced Setup Time
Helping with accurate fitup while increasing productivity are two big advantages of the Proform+ press brake cited by Zeiter. The machine features dual pressure transducers on its hydraulic cylinders to provide increased tonnage accuracy, with digital encoders delivering ±0.0004-in. ram repeatability to enable close-tolerance forming, according to Cincinnati officials. The clevis-mounted cylinders and centerline loading confine operating stress to the main housing to eliminate cylinder misalignment, and the machine's variable-volume, load-sensing hydraulic system reportedly acts to minimize maintenance costs and increase energy efficiency. Other features noted by Cincinnati officials: The hydraulic cylinders use hardened piston rods with precision guiding to minimize oil leaks, and the machine's heavy plate frame is precision machined and rigidly interlocked, not welded, to better resist deflection during maximum loading.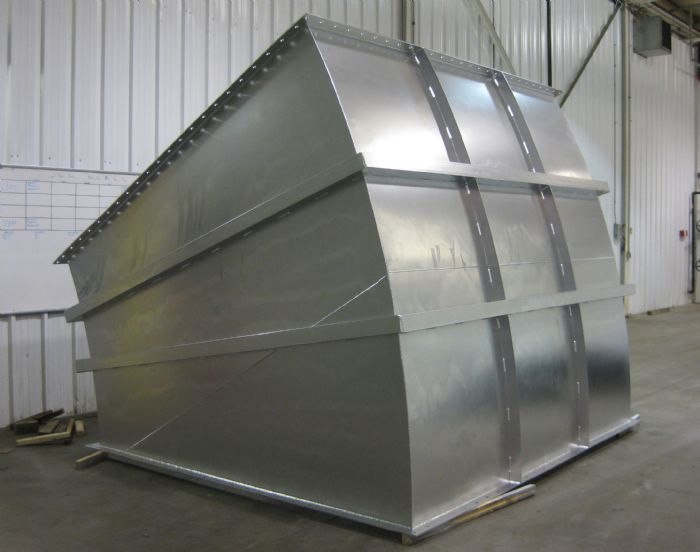 Reduced setup time and programming—important given the varied and customized jobs residing on the 400-ton brake at Swanton—make the machine especially valuable, according to Zeiter. New part programs can be generated through manual data entry via the touchscreen HMI, or by drawing the part in cross-section or flat pattern, and then selecting the tooling and bend sequence. A special job-setup page displays tool-segment lengths and tool locations, as well as notes to improve part consistency.
Swanton also employs Cincinnati's optional Windows-based bend-simulation software, which allows for offline programming of the press brake. The software interface replicates that of the control and enables users to create and edit part programs offline, generate part programs with automatic bend-sequence calculations, and check for tool and machine interference. In addition, users can simulate bending while displaying the part, tooling, gauges, bed and ram at each step, allowing for verification of the bending sequence, and to manually modify tool, part and gauge positions.
"We utilize the simulation software when forming a new piece part or project," says Zeiter. "It's a tool that we feel improves efficiency and quality."
Overall, he explains, "setup is so much easier with the automated features on this press brake as compared to older machines. We constantly seek to upgrade our technology to stay competitive—and our industry is much more competitive than ever, which is why there are fewer of us around. The technology and capabilities of this press brake help us to grow and compete. We take the same approach with our other processes as well, looking out for machines and automation to help us do our jobs better."
As impressed as Zeiter is by the current state of modern fabrication technology and automation, at the end of the day he gives the most credit to his associates, who, he says, utilize the company's equipment to its fullest.
"We have very skilled employees, some of whom have been with us for more than 20 years, and we have many skilled people available in Northwest Ohio," he says. "As a result, we get the most out of all of our equipment." MF
Industry-Related Terms:
Bar Coding
,
Bed
,
Bending
,
CNC
,
Drawing
,
Flat Pattern
,
Forming
,
Gas Metal Arc Welding GMAW
,
Gauge
,
LASER
,
Lead Time
,
Plate
,
Ram
View Glossary of Metalforming Terms
See also: Cincinnati Inc.
Technologies: Bending