Refrigerators with Wi-Fi-enabled touchscreens allow homeowners to shop for food, organize family schedules and even see who is at the front door. A recent AHAM report shows that 70 percent of consumers are close to purchasing a connected appliance, or would not mind having one.
As for industry challenges, McGuire cites tariffs, trade agreements and regulations as continuous concerns.
While AHAM typically does not involve itself in trade issues because of the global nature of its members, McGuire finds himself these days addressing the China tariffs and their impact on appliance makers and their suppliers.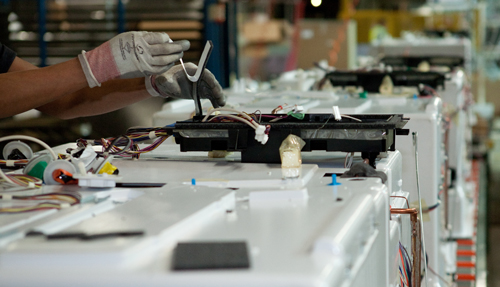 State-of-the-art appliances such as these refrigerators demand inclusion of intricate smart components, a challenging assembly task. Photo courtesy of GE Appliances
"The recent round of 25-percent tariffs on top of the earlier 15-percent tariffs drives up the cost of manufacturing, making it difficult to invest in R&D and new facilities, while impacting the global supply chain," says McGuire. "The uncertainty is disruptive and difficult; that's what we're hearing from our members."
AHAM supports addressing China's policies and practices related to intellectual property and innovation, says Jennifer Cleary, AHAM's vice president of regulatory affairs, "but we continue to believe these tariffs will increase consumer costs and divert company resources away from innovating."
As for regulations, McGuire says that AHAM commends the Department of Energy (DOE) on its recent decision to modernize its process for developing appliance efficiency standards and related test procedures. Simply put, DOE has agreed to undertake early, fact-based assessments on energy-savings potential before moving ahead with new standards that may affect performance.
Looking ahead, McGuire says that appliance makers are enthusiastic about the future because of the pace of innovation.
"We're finding more ways to make appliances more vital," he says, "taking them beyond functionality through connectivity. Also, if policymakers continue to refrain from excessive regulations, appliance makers and consumers will continue to benefit from safe, energy-efficient and technologically advanced products."
Supplier Challenges Faced and Met
Make no mistake, the benefits that McGuire extolls are here today. Watch a decades-old rerun of Price is Right and you'll see appliances shaped like rectangles in one of perhaps three colors. These were the washer and dryer pairs, oven ranges and refrigerators presented for bidding. Fast-forward to today, and the evolution in appliance styling is, in a word, striking,―from colors to contours and, most recently, to displays, controls and other features that bulge with smart technology. The latest offerings reflect changes in consumer wants and needs, teamed with stepped-up design efforts and manufacturing processes that enable it all.
One supplier at the forefront of the appliance-styling evolution is American Trim, LLC, headquartered in Lima, OH. With more than 65 years of forming and decorating metal on its resume, the company ships more than 40 million parts annually for the appliance, heavy-truck and automotive industries. Working closely with its appliance OEM and Tier customers and their design studios, American Trim is well-positioned to comment on appliance design and styling issues, and that is just what MetalForming asked the company to do.
Key personnel at American Trim combined their thoughts to provide detailed responses on materials, manufacturability, the incorporation of IoT and more, and how the company and its customers have responded to the challenges arising from these trends.
Materials and Contours
Like other appliances, refrigerators increasingly incorporate smart features and other amenities, such as this water dispenser and coffee brewer. Photo courtesy of GE Appliances
OEM designers focus on kitchen and laundry as independent spaces. For all appliances, the use of stainless steel continues to be strong, with colored stainless steel quickly growing market share and many colors currently in development. American Trim's lab provides color-matching capabilities to assure the meeting of these color requirements. Paint and prepaint applications are significant for laundry, but limited for kitchen appliances as they migrate to stainless. Customers find that stainless steel and aluminum components provide a durable finish with many color and brush options. This meets end consumers' desires for authentic, eco-friendly materials.
OEMs focus on the user interface and consumer interaction with panels, which also provides a place for brand placement. There is a movement away from rounded, soft designs to crisp, tight designs. Acceptance of unique corner and edge treatments to accomplish tight-radius designs are accomplished with both decorated stainless steel and aluminum consoles. Mixed metals and materials are a growing trend, such as aluminum panels with a polycarbonate overlay.
Smart Technology
Smart technology significantly affects appliance design and the manufacturing process. Specifically, electronics integration into the control panel represents a primary design factor. The need for strong Wi-Fi connections to the CPU of appliances has reshaped the design and testing procedures of the machine and user interfaces. Material selection for traditional components to accommodate Wi-Fi is still in transition as suppliers and OEMs work to overcome the barriers to RF connectivity. Approaches have included using larger display areas for metal panels, forward placement of hidden RF antenna elements within the display envelope, and consideration of other elements such as interference from an open metal washer lid. American Trim invested in modeling analysis of several Wi-Fi antenna and integration approaches to ensure their ability to provide the IoT solution paths that OEMs increasingly desire. In many cases, the best solutions have remained dedicated RF antennae at the perimeter of the machine to enable reliable signal quality without interference from the machine structure and power elements.
Forming and Fabricating Challenges
As mentioned earlier, customers request the forming of precoated material with a tighter design radius. American Trim provides input for production-friendly processes on unique corner and edge treatments to meet customers' design specifications. This trend puts a premium on tooling design, small feature revisions to ease the metal stress, and unique coating/ pretreatment solutions so that the finish survives both forming and end-user application testing. The more that design trends push in these directions, the more that American Trim's uniquely integrated 'sandwich' solutions become critical to success. The design trend toward mixed metals and materials also continues to evolve and will grow integration opportunities. This requires forming and fabrication capabilities to process multiple types of metal in the same applications.
Additionally, cost-reducing designs have increased the difficulty of manufacturing, i.e., thinner materials (downgauging) require strengthening features such as ribs and gussets in order to retain structural integrity. This adds complexity to tool designs.
Metal Forming and Fabricating Technology
―American Trim has implemented several metal forming and fabricating technology advancements. Fiber lasers increase the speed, accuracy and overall visual aspects of production parts, and allow for the replacement of expensive trim dies. Also, advancements in high-precision cameras now achieve extremely accurate graphics-to-part registration. In addition, servo automation upgrades have increased press speeds via smoother and more accurate movements. To increase its speed of development, American Trim utilizes four- and five-axis CNC mills. Furthermore, new simulation software has helped predict and create design options that lead to increased quality while reducing press tonnage.
Collaboration and Leveraging of Capabilities
Recently, American Trim used its unique design and manufacturing capabilities to assist in the design and build of a cooking product. This included knowledge of the design, porcelain application on a curved surface, decorating, adhesives, manufacturing and fixtures, and concluding with the assembly process. In addition, the company has developed and supplied special colors on materials to allow early production startup by OEMs prior to availability of materials from high-volume suppliers.
Finally, as global markets have increased the number of standards, each country has their own variation of safety specifications. This can add significant SKUs. American Trim accommodates all new and existing requirements on behalf of its OEMs and Tier customers.
Tooling Up for Class-A Finishes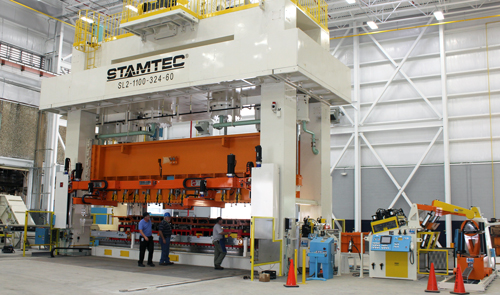 The Roper Corp. plant expansion in Fayetteville, GA, accommodated two new transfer presses, enabling the plant to increase its metal fabrication capability as part of a program to insource metal parts. GE Appliances reports that it invested $43 million to create new manufacturing capacity and products at the plant. Photo courtesy of GE Appliances
Styling demands much across the appliance-manufacturing chain, with tooling bearing the brunt. A single surface imperfection can relegate appliances to the scratch-and-dent sale section of a department store, or, more likely, result in scrap and wasted production time in a manufacturing facility.
To find out what it takes to produce Class-A parts and components at volume quantities (hint: the key word is "careful"), we talked to Pete Ulintz, author of the Tooling by Design column in MetalForming, and technical director at our parent organization, the Precision Metalforming Association.
"Super-duper careful," Ulintz says, stressing the importance of delicate material handling when producing visible appliance panels and parts. Material handling in stamping not only includes transport and storage of such parts, but how the material is handled along the press line and in the die.
"Consider the condition of the tooling," Ulintz advises. "Tooling for Class-A parts will require highly polished surfaces and the use of high-quality lubricants. When I was involved with stamping Class-A components, albeit stainless steel parts that included post-process nickel plating and clear chroming, we applied a polyethylene sheet to both sides of the blank, which provided an added level of protection against imperfections such as scratches and dirt. The sheet also served as a lubricant."
Interestingly, employing the sheet in addition to a lubricant can introduce a unique situation, as Ulintz recalls.
"Through some testing for another Class-A project, we found that the lubricant would not apply consistently, sometimes puddling or, otherwise not be evenly distributed," he says. "The lubricant must be compatible with the material covering the sheet metal…a wetting agent may be required so that it would adhere. We couldn't achieve consistent results due to the uneven lubricant distribution, which caused variability in production. Sometimes we would produce a good part with a nice surface finish, and other times the part stretched too much, causing the grains to enlarge in localized areas and producing a dull surface."
A dull area in the stainless steel part would, upon nickel plating and chroming, stand out even more, leading to a trip to the scrap pile, according to Ulintz.
"We thought it was a material issue when in fact it was this inconsistency in lubricant application," he says.
Another challenge, Ulintz points out, when employing polyethylene sheets: the need to remove them immediately following the stamping process, as a delay following forming would make doing so very difficult.
"And," he says, should these sheets and parts be exposed to ultraviolet light while sitting around for any length of time, the sheets could not be removed at all. A stamper may decide to do all of the initial forming first, then set that part run aside while changing tooling for another operation. But the polyethylene sheets will stick."
Of course, dirt and grit and other impurities must be minded throughout the entire part-production process so as not to mar the part material.
"Blank washing becomes an important process," Ulintz says.
After producing a blank, good practice includes transfer to a blank-washing process for removal of any particles or impurities prior to forming. This also helps prevent damage to those highly polished dies.
When deep-drawing Class-A parts, Ulintz recommends employing forming simulation and the use of draw beads. Even for shallow drawn parts, his draw-bead recommendation stands.
"Draw beads help ensure a nice, tight panel without wrinkles or waves," Ulintz says. "Make sure that the material going over the draw beads doesn't end up in the part and, instead is trimmed away."
Be sure to stretch material when forming panels, Ulintz advises, to prevent loose metal that creates waves that may not be visible until secondary painting operations.
And of course, protection of Class-A material and parts demands careful material handling throughout the plant.
"Today, automation handles a lot of Class-A surface material," according to Ulintz. "Vacuum cups may pick and place material into the die, for example." MF

Industry-Related Terms:
Blank
,
CNC
,
Color
,
Corner
,
Die
,
Draw
,
Edge
,
Forming
,
Functionality
,
Grit
,
Manufacturability
,
Run
,
Scrap
,
Stainless Steel
,
Surface
,
Transfer
View Glossary of Metalforming Terms
Technologies: Bending