Of course, press brakes can only go to work once they're fed blanks, and to keep the material moving through the shop, in 2019 A & J purchased a servo-electric laser-punch combination machine, a Prima Power Combi Genius.
"We had discussed purchasing a combi machine for a number of years," explains Suki Atwal. "We had a couple of jobs that we were running on a turret press, and the secondary operations were very time consuming that slowed down the entire process. In addition, these large parts were heavy and our operators were breaking out parts from nests. By the time the machine would run one sheet it would take the operators the same amount of time to shake out the parts, deburr them and prepare them for the next operation. That's what led us to invest in the combi machine."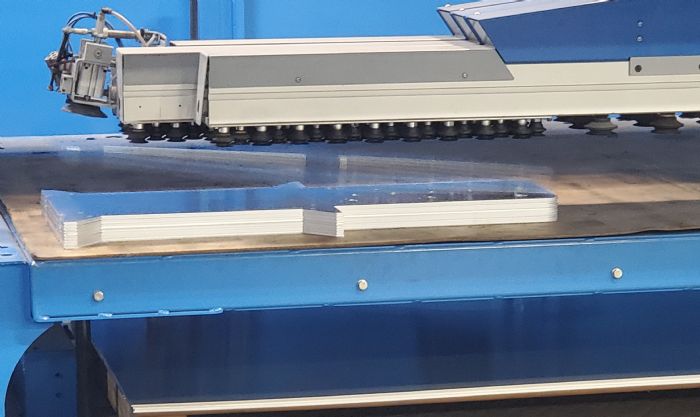 It's performed so well, say both Atwals, that earlier this year the firm added a second laser-punch combination machine—a smaller machine, with sheet capacity to 4 by 8 ft., compared to the 5 by 10-ft. sheet capacity of the Combi Genius.
"That 5 by 10-ft. sheet capacity gives us a competitive edge in the area," adds Suki.
State-of-the-Art Fiber-Laser Cutting
The Combi Genius combines the benefits of this punching performance with the latest in fiber-laser cutting. It features 3 kW of laser power and a 30-ton punch, and A & J has outfitted the punch turret with 108 tools, including several multitools, fixed and indexable. Much of the material running through the machine is stainless steel to 1⁄8 in. thick.
"We run a lot of 14-gauge stainless, as well as mild and galvanized steel sheet, and 1⁄8-in. aluminum," says Suki. The machine runs a lot of 5 by 10-ft. blanks nested with just one or two parts (think large panels for electrical enclosures), as well as nests with 10 or more parts for brackets and the like.
"We run what I would consider some fairly high-volume jobs on the combi machine," continues Suki, "with annual production volumes in the several thousands. And we use the Combi Genius, rather than a stand-alone turret press, on unique jobs that have odd contours and a lot of tapping requirements. There are parts that we do on it today that we could not have done before purchasing the Combi Genius."
"We run the Combi Genius 24/7," adds Amrik. "During the night and on weekends, it runs lights out unattended."
Key to lights-out capability is the automatic sheet loading, and part-removal and stacking ability provided by Prima Power's LST loading and stacking robot. Sheet metal blanks reside on a pallet table to the right of the Combi Genius. The LST robot, equipped with a large grid of programmable, pneumatic suction-cup grippers, lifts the top sheet and moves it onto the laser-punch where it is repositioned and clamped. Double-sheet detection can be performed for every sheet.
The machine then punches all of the programmed holes, laser-cuts additional part features and performs any forming operations required (lances, countersinks, embosses, etc.) Then, as the laser cuts each final part profile the robot reaches over to pick up each cut part and stacks them on separate worktable. Finally, the robot moves any leftover sheet skeleton to the far left of the machine, then gabs another sheet and starts the process over.
Rapid ROI
"We can set up and run the machine to run for 3 or 4 hr. overnight," says Suki, "and we often set it up for 10 to 14 hr. of run time over a weekend. And, because 80 to 85 percent of the jobs do not require micro joints, our operators arrive in the morning needing only to move stacked parts to subsequent fabrication operations, whether press brake bending, welding or painting.
"Part stacking has been a great help," Suki adds. "The LST allows our operators to use larger-sized sheets more safely and efficiently. As an example of the efficiency gains we've experienced, we have one job—12-gauge galvanized-steel mounting panels for electrical enclosures—that requires three different-sized taps. Previously, we had to perform two of the tapping operations by hand—very time consuming. It would take 24 to 30 hr. to complete the job. With the Combi Genius we run the job in just 8 hr., as we can run six different-sized tapping tools on the Combi Genius. In addition, part quality also has improved by laser cutting part profiles compared to nibbling. We have practically no micro joints to clean up.
"We estimate a return on investment from the Combi Genius of 18 to 24 months," Suki concludes. "There are several jobs where the Combi Genius reduced our lead time in half. Over the years, we have been able to grow because we've had the right people and the right equipment." MF
Industry-Related Terms:
Bending
,
Edge
,
Forming
,
Grippers
,
LASER
,
Lead Time
,
Pallet
,
Run
,
Stainless Steel
,
Tapping
,
Turret Press
,
Turret
View Glossary of Metalforming Terms
See also: Prima Power North America, Inc.
Technologies: Bending, CNC Punching, Cutting