High-Productivity Hydraulic Press Brakes
June 14, 2022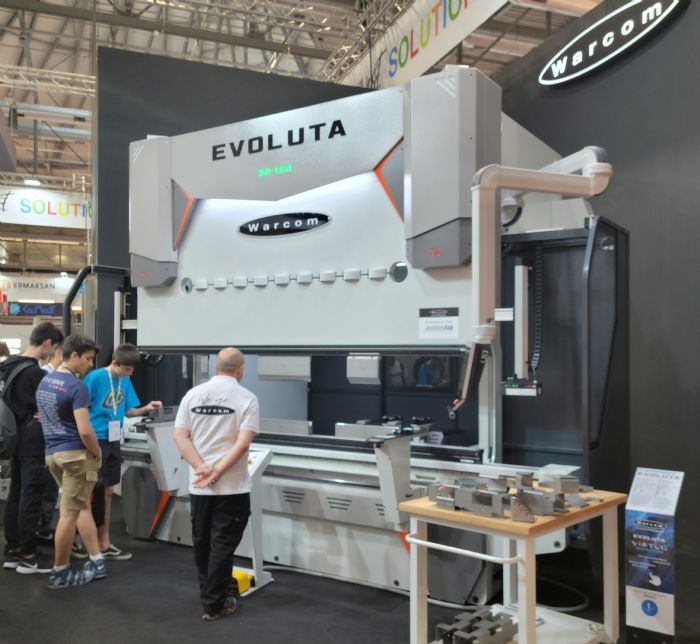 At Lamiera, the recently held sheet metal-processing tradeshow held in Italy and attended by MetalForming, Warcom highlighted the Evoluta series of hydraulic press brakes. These machines promise high productivity with accuracy, repeatability and flatness of the bent sheet metal on various materials and thicknesses.
The Evoluta features Warcom's FCS (Full Compensation System) with real-time dual automatic compensation, to help ensure ideal bending results. And, this series' unique hydraulic unit reportedly allows for rapid and efficient ram movement, reaching approaching and return speeds of 240 mm/sec., and bending speeds to 30 mm/sec. Such speed becomes possible due to the sliding movement of the Evoluta upper beam, accomplished via hardened and ground guides with roller bearings, which reduces dynamic friction and ensures smooth movement. Providing safety at any speed is the LazerSafe safety system from IRIS. Other machine features: CAN/BUS communication system, heat exchanger, standard silenced pump and a 21-in. Talento CNC touchscreen.
The Evoluta and other Warcom fabricating equipment are available through Fabrication Solutions & Technologies (fststeelfab.com), Judson, TX, a unit of Italy-based Imcar Bending & Welding Technologies.
See also: Fabrication Solutions & Technologies, Warcom
Technologies: Bending