Fabrication Equipment Boasts State-of-the-Art Technology
October 1, 2015
Amada America, Inc.
Booth S901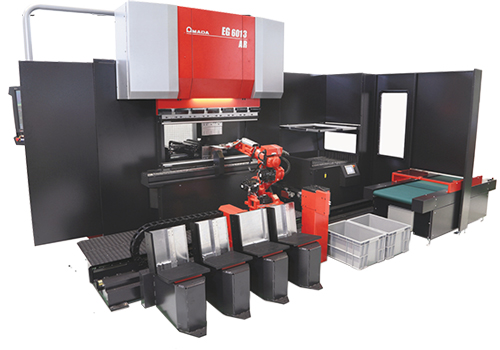 Amada America, Inc., CA, showcases a roster of new fabrication technology designed to boost productivity and quality.
The EG 6013 AR, combining the power and precision of a servo-electric press brake with an advanced bending robot, is ideal for high-speed production of small, complex parts This automated six-axis bending cell (pictured), with a compact footprint, is engineered for the unmanned production of any lot size or part mix. Equipped with reportedly the world's first twin servo-electric drive system, the EG 6013 AR ensures high-speed and high-accuracy bending with lower power usage. Features include automatic angle measuring, offline programming, multiple part load/unload stations and an automatic tool changer.
Amada's HG 1003 ATC servo/hydraulic press brake with automatic tool changer (ATC) reportedly can triple or quadruple the amount of setups performed each day and introduce rush jobs seamlessly. The hybrid drive system achieves rapid approach, bending and return speeds, resulting in faster cycle times and more parts produced per hour. The ATC provides 18 magazines for dies and 15 for punches. Each magazine can accommodate tool lengths to 31.5 in. HG-series press brakes include the newly developed AMNC 3i (intelligent, interactive, integrated) control.
The LC 2515 C1 AJ punch/fiber-laser combination machine with automated material storage and handling combines the capability of a 22-ton turret punch press with the flexibility of a 2-kW fiber laser. To maximize punching productivity in conjunction with laser cutting, the C1 AJ features a 49-station multi-purpose turret. In addition to increased speed, the efficient fiber laser reportedly uses approximately one-third of the electricity as a CO2 system. Equipped with ASR 3015N TK material-handling options enables the C1 AJ to cost-effectively produce smaller lot sizes in a variety of material types and thicknesses or operate lights-out for extended production runs.