Fabricate Corrugated Plate in Any Press or Press Brake
November 1, 2010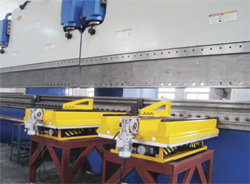 Hydrapower Intl., Marco Island, FL, has developed a system to reduce labor and improve safety and accuracy during production of corrugated plates. The system, which can be outfitted to any press or press brake, raises and lowers the workpiece into and out of the die when forming hat sections, V ribs and other profiles. It also feeds the plate through the press at each bend location.
There are numerous applications where fabricators are presently forming these shapes using several operators to manipulate the material into the dies and then lift the material to reposition it for the next bend. When using the Hydrapower system, one operator can process the job more quickly, safely and accurately.
Hydrapower Intl.: 239/642-5379; www.hydrapower-intl.com
See also: Hydrapower International Inc.
Technologies: Bending, Stamping Presses