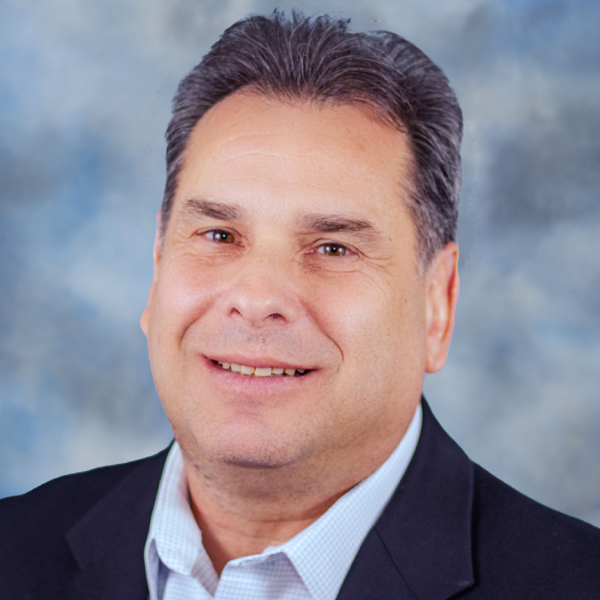 Brad Kuvin
Do You Have What It Takes to Move into the Medical Market?
August 1, 2009
An aging population that expects increased quality of life through more and better treatment options continues to feed the healthy and rapidly growing medical-device and supply industry. U.S. manufacturing companies supplying this market with monitors, drug-delivery systems, therapeutic devices, surgical instruments and appliances, and other products have catapulted the country to a position of global leadership. In some areas, that leadership position astonishes—for example, the United States accounts for 60 percent of the world's market for minimally invasive medical devices, according to a recent survey from Themedical (http://www.themedica.com). Overall, the survey finds, the global market for medical devices (including instruments) is forecast to yield $201.6 billion in 2010, with several segments forecast to grow at an annual rate of 7 to 10 percent or more over the next several years.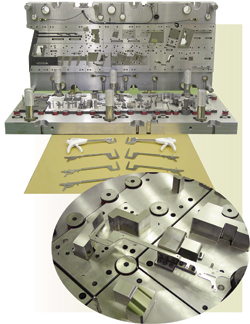 This progressive die (with strippers removed for clarity) was developed by Oberg Industries and runs at its plant in Sarver, PA, to produce five different sizes (four shown here, above) of frame stampings for a Covidien TA DST Series open surgical stapler. Oberg developed two dies for the stapler, one to make right-hand frames and the second to make left-hand frames. Each die comprises 19 stations and runs at 70 strokes/min. in a 300-ton Minster E2-300 Hevi-Stamper mechanical press. Material is fed through a Herr-Voss precision leveler to help maintain part-flatness tolerances of ±0.002 in./1.000 in. Also critical is true hole position, to ±0.002 in.; maximum burr height is 0.002 in. Shown in the close-up photo is the punch shoe, with stripper removed.
Trends governing the growth of this lucrative industry? There are more doctors and dentists than ever before. And, more and more patients expect portability from their devices, to deliver care at the bedside or even a from home. Examples (offered up by Phil Salditt, director of customer development for Plexus Corp., a manufacturer of printed circuit boards for the medical-device and other industries, in his paper titled, Trends in Medical Device Design and Manufacturing) include products for cardiac pacing, pain management, drug delivery, and blood-chemistry monitoring. All of these new products require a fresh approach to design and functionality, including ruggedness, wireless connectivity and a user-friendly control interface. And, manufacturing volumes, particularly for disposable medical products, have risen exponentially in some cases, forcing manufacturers and suppliers to add automation to their production and assembly lines.
New Quality Standard Gaining a Foothold
Critical to tier manufacturers along the medical-industry supply chain is diligent attention to quality, governed up and down the supply chain by ISO 13485—Medical Devices—Quality management systems—Requirements for regulatory purposes. While still not widespread, more and more suppliers have recently begun to work toward becoming certified to this standard, which underwent a significant upgrade in 2003.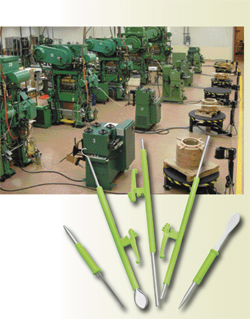 The Weiss-Aug pressroom features Bruderer high-speed presses from
20 to 90 tons. The firm's expansion in the medical arena has focused on developing strategic customers—those that would generate at least $1 million in annual sales. Weiss-Aug specializes in new-program development, assisting OEMs early in the design stage of products such as the surgical disposables shown here, to ensure quality and manufacturability and at the same time help control costs and prevent overruns.
Frank Nisco, director of global sourcing for medical-device manufacturer Covidien, tells MetalForming that, "I can't emphasize quality enough, and nothing else comes close as being so important when we rate our suppliers. Quality accounts for 50 percent of our supplier scorecard (with price and on-time delivery performance each accounting for 25 percent). And while today we expect ISO 9001 registration at a minimum from our suppliers, we are moving quickly toward expecting all of our suppliers to also comply with ISO 13485." All of the firm's stamping suppliers also have TS 16949 registration. Covidien, based in Dublin, Ireland, maintains U.S. headquarters in Mansfield, MA, and has product lines in medical devices, imaging solutions, pharmaceutical products and medical supplies.
What's unique to ISO 13485? According to an article in Quality Digest, the standard adds requirements related to design, traceability and environmental control. It expects manufacturers to engineer controls in the work environment to ensure product safety and to focus on risk management, and contains specific requirements for inspection, traceability and validation of processes for sterile medical devices. The article quotes a regulatory services manager, who says that, "If a medical-device manufacturer gets audited, the auditor looks back on the supply chain. When auditors ask how the company controls that supplier and whether they hold a registration (to ISO 13485), that's a good start in showing control over production of components or subassemblies."
A recent survey from Crimson Life Sciences finds that, from the standpoint of risk management, the device manufacturer and its contracted suppliers are considered one and the same, so suppliers must be held to the same standards as the OEM. More than one third of the total supplier base to the medical-device industry has ISO 13485 certification, according to the survey (and more than 50 percent when looking at nonexempt suppliers, or those suppliers of components such as springs and other metalformed parts that are not exempt from destructive and incoming inspection).