To learn more, MetalForming interviewed Shane Simpson, product manager at Trumpf Inc., Farmington, CT, who described a number of technology enhancements manufacturers have made with their most recent product introductions.
Virtual Bending
"With the market focus on quick setup and quick changeover, and minimized scrap rates," says Simpson, "press-brake manufacturers are focused on helping shops move jobs from the office to the shop floor quickly and efficiently, and with making the first part a good part. Offline programming (OLP) and virtual bending in the office makes that happen, and allows a fabricator to move the know-how out of the shop and into the programming office. Thus, one well-trained and knowledgeable press brake operator versed in OLP can develop documented setups and program bend sequences for every job on the floor, and view 3D simulations of each procedure. This allows for a somewhat reduced skill level on the floor without sacrificing quality or increasing scrap levels."
Nearly every fabricator that purchases a new press brake also invests in OLP software, according to Simpson, who says that buying the software is like "buying a second press brake and putting it in your office." Using the software to manage bend sequencing, account for material bend allowances and predict and account for collisions allows a fabricator to go from the office to the shop and produce a finished part in as little as 15 min., Simpson says. Shops avoid a trial-and-error process that adds unnecessary operator and press-brake production time.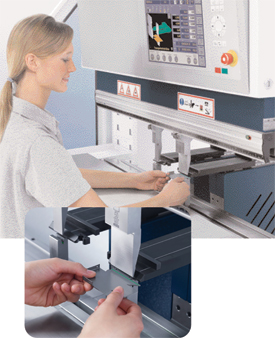 Skilled operators als will remain a must in any sheetmetal-fabrication shop. And, one to attract more folks to the sheetmetal-fabrication trades is to improve the ergonomic aspects of operating the machinery. New features available to improve ergonomics include adjustable foot and hand rests to minimize fatigue and improve productivity.
"This waste reduction of human and machine capital becomes even more critical as part volumes shrink—even to as little as one—and as more shops look to take on prototype-development work for their customers," says Simpson. "Before the operator even heads out onto the shop floor to start his shift, he can look at each job tracker—even for new jobs—and know exactly what tools he needs, where the tools are stored, what the setup looks like and how long it should take him to complete the setup."
Tool-Positioning Aids
Setups at the press brake can get quite complicated, particularly when several tool stations are set up along the bed for sequential, staged bending. Staging one tool set to impart one bend onto each blank from a healthy blank stack won't challenge too many operators. However, asking an operator to stage a set of several—say four or five—sets of tools along the bed, and then run each blank through four or five forming operations is another story. Manufacturers have focused, again, on s to mistake-proof these particularly challenging setups. "Smarter machines leads to fewer mistakes on the floor," says Simpson.
One manufacturers have made "smarter machines" is by developing tools and techniques to help an operator properly use multiple staged tool setups across the press-brake bed. Simpson describes a Trumpf solution—use of optical LEDs as positioning aids. The LEDs mount above the upper tool rail tools, and light or dim based on the part program. Activated LEDs serve multiple purposes—they alert the operator where to install the tooling on the brake, and then illuminate during the bend sequence to guide the operator along the programmed bend sequence.

"This feature (and other manufacturers offer similar functionality) helps prevent operators from making the wrong bend," says Simpson. "For example, if there's 8 ft. of tooling installed in the brake and the operator goes to make one 2-ft. bend in the sequence, the LEDs will only light above that particular 2-ft. tooling section to show the operator where to position the blank. This leads to fewer setup and production mistakes and improved productivity, regardless of operator skill."
Another manufacturers help support operators during setup is use of the press brake's backgauges to guide tool positioning. As part of the press-brake setup program, the backgauges will index to each location where the tools are to be set. Then the operator simply has to slide the tool against the backgauge finger, lock it down and hit the "Go" button on the controller, to signal the backgauges to move to the next tool-set position.
"This setup assistance and other features allow any operator in the shop to set up even the most complex job," adds Simpson, "with optimum assurance the setup will be correct, regardless of his skill level. This allows shop management to make purchasing decisions based on their own set of rules and press-brake specifications, rather than leaving buying decisions up to the operators, who often will prefer a machine based only on their own experience level with that machine's manufacturer. That's not the best to make a purchasing decision, and new technology features such as OLP software and setup aids act as equalizers."
Bend-Angle Accuracy
"Tolerances are tighter than ever," continues Simpson, noting that many fabricators that once specified ±0.030 in. tolerances now quote 0.010 to 0.015 in. tolerances. "Also, parts formed on press brakes have become much more complex as fabricators look to streamline designs, use fewer parts and eliminate welds. That places tighter requirements on bend-angle accuracy —in the past, a part formed to a 1-deg. tolerance could be corrected in a welding fixture. As two- and three-piece assemblies become one complex formed part, fabricators lose that luxury."
As a result, parts have to leave the press brake perfectly formed, and this is where measuring bend angle in-process and the ability to make real-time adjustments in the press brake come into play. Each manufacturer has its own of doing this, says Simpson, including use of pressure sensing or lasers to measure bend angle from both sides of the workpiece.
For example, says Simpson, Trumpf's angle-controlled bending (ACB) process measures material variance, sheet thickness and grain direction to help ensure bend-angle accuracy.
"Grain direction has become a critical variable," says Simpson, "particularly when material prices creep up. When that happens, fabricators will nest blanks for processing (in a laser-cutting machine or a turret press) to optimize material utilization. Therefore, blanks might be rotated any number of s to fit into an efficient nest. However, this means that grain direction can vary from blank to blank, which affects springback in the press brake and bend-angle repeatability. This is where real-time bend-angle measurement and correction proves helpful."
Other Issues— Ergonomics, Safety, etc.
Irregardless of new technology that leads to smarter machines, skilled operators als will remain a must in any sheetmetal-fabrication shop. And, one to attract more folks to the sheetmetal-fabrication trades is to improve the ergonomic aspects of operating the machinery. Historically, press-brake operators have battled back strain and carpal-tunnel syndrome, among other ailments. But now, says Simpson, the industry has addressed those problems and designed features into press brakes to ease the physical part of the job, so that operators can focus on the mental aspects.
"New features available to improve ergonomics include adjustable foot and hand rests to minimize fatigue and improve productivity; the ability to operate the brake while seated; and an adjustable (mobile) control," says Simpson. "Using the mobile control," he elaborates, "the operator can manage all functions of the press brake from anywhere along the machine, minimizing walking time. He can clamp the tools, turn on the hydraulics, cycle-start the bending program, etc…without having to move back and forth to the main control panel."
Additional tools developed to assist press-brake operators include the addition of a bar-code reader to the operation, "so the operator can simply scan a job traveler to load the required program into the control and remove yet one more source of human error," says Simpson. "For example, consider a job that calls for a right- and left-hand part configuration. An operator might easily call up the left-hand part program when he really was tasked with forming right-hand parts. How many parts might be bent before someone finds the error?" MF
Industry-Related Terms:
Bed
,
Bending
,
Blank
,
Fixture
,
Forming
,
Grain Direction
,
Material Utilization
,
Run
,
Scrap
,
Thickness
,
Tolerance
,
Turret
View Glossary of Metalforming Terms
See also: TRUMPF Inc.
Technologies: Bending, Fabrication