SME and Stratasys Announce Fanuc-Inspired SkillsUSA Additive Manufacturing Winner
July 19, 2019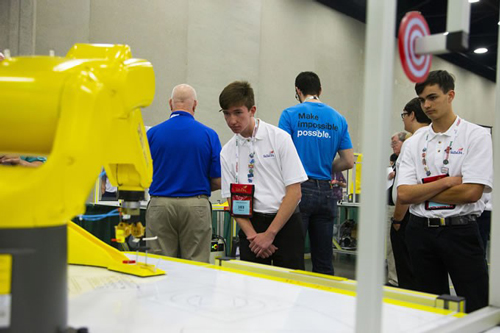 The Society of Manufacturing Engineers and Stratasys, provider of additive manufacturing solutions, have announced the winners of their co-sponsored 2019 Additive Manufacturing Competition, held during the 55th annual SkillsUSA National Leadership and Skills Conference in Louisville, KY, June 24-28. SME and Stratasys also partnered with Fanuc, provider of robotics, CNC systems and factory automation, and the inspiration behind this year's challenge, which required participants to design, fabricate and apply an end-of-arm tool in a simulated real-life manufacturing robotics scenario involving a full-production sedan assembly line. Participants demonstrated their ability to conceptualize, design, iterate and apply a 3D-printed tool, aided by a robot running a pre-installed program. More than 6500 career and technical education students--all SkillsUSA state contest winners--competed in 103 different hands-on trade, technical and leadership fields.
The winning teams
received gold, silver and bronze medals from SkillsUSA as well as scholarships from the SME Education Foundation (for high school participants), a one-year subscription for Tooling U-SME classes, RAPID + TCT conference passes (for postsecondary participants), Solidworks' 3D-CAD design software and a MakerBot Mini printer (gold medal winners). Taking top honors were three high school teams--Spring Valley High School (gold), Huntington, WV; Wasatch High School (silver), Heber City, UT; and Millard North High School (bronze), Omaha, NE, as well as three college teams--Wyatt Grogden Butte College, Oroville, CA; Texas State Technical College, Waco, TX; and Catawba Valley Community college, Hickory, NC.
See also: Stratasys, Inc.
Technologies: