Page 46 - MetalForming September 2016
P. 46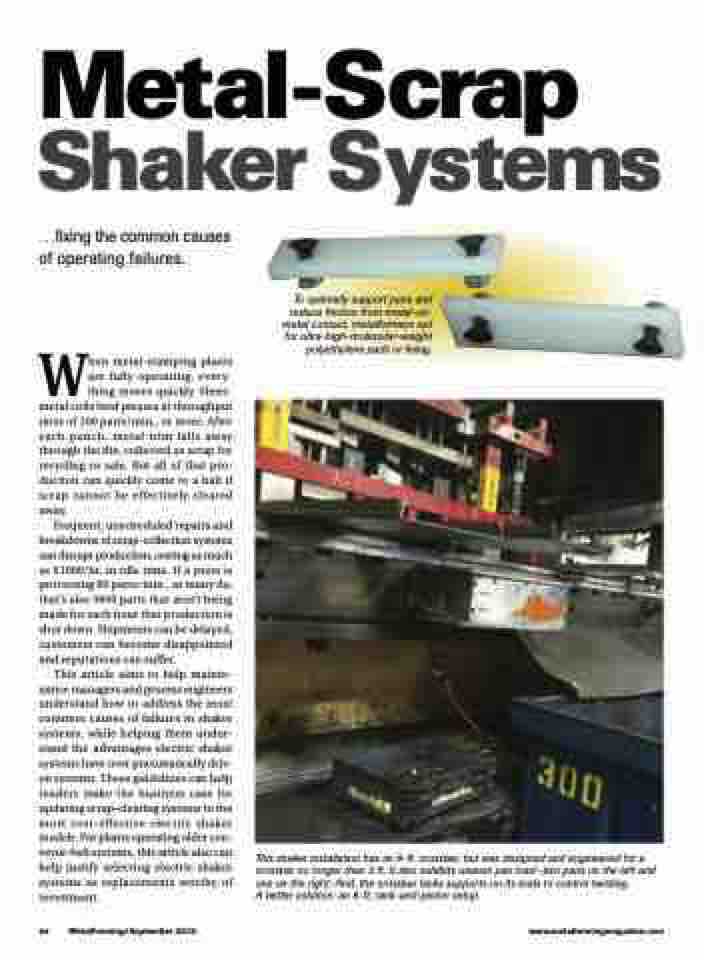 Metal-Scrap
Shaker Systems
 ...fixing the common causes of operating failures.
When metal-stamping plants are fully operating, every- thing moves quickly. Sheet- metal coils feed presses at throughput rates of 100 parts/min., or more. After each punch, metal trim falls away through the die, collected as scrap for recycling or sale. But all of that pro- duction can quickly come to a halt if scrap cannot be effectively cleared away.
Frequent, unscheduled repairs and breakdowns of scrap-collection systems can disrupt production, costing as much as $1000/hr. in idle time. If a press is processing 60 parts/min., as many do, that's also 3600 parts that aren't being made for each hour that production is shut down. Shipments can be delayed, customers can become disappointed and reputations can suffer.
This article aims to help mainte- nance managers and process engineers understand how to address the most common causes of failures in shaker systems, while helping them under- stand the advantages electric shaker systems have over pneumatically driv- en systems. These guidelines can help readers make the business case for updating scrap-clearing systems to the most cost-effective electric shaker models. For plants operating older con- veyor-belt systems, this article also can help justify selecting electric shaker systems as replacements worthy of investment.
To optimally support pans and reduce friction from metal-on- metal contact, metalformers opt for ultra-high-molecular-weight polyethylene pads or lining.
   44 MetalForming/September 2016
www.metalformingmagazine.com
This shaker installation has an 8-ft. crossbar, but was designed and engineered for a crossbar no longer than 3 ft. It also exhibits uneven pan load—two pans on the left and one on the right. And, the crossbar lacks supports on its ends to control twisting.
A better solution: an 8-ft. rack-and-pinion setup.