Page 10 - MetalForming September 2016
P. 10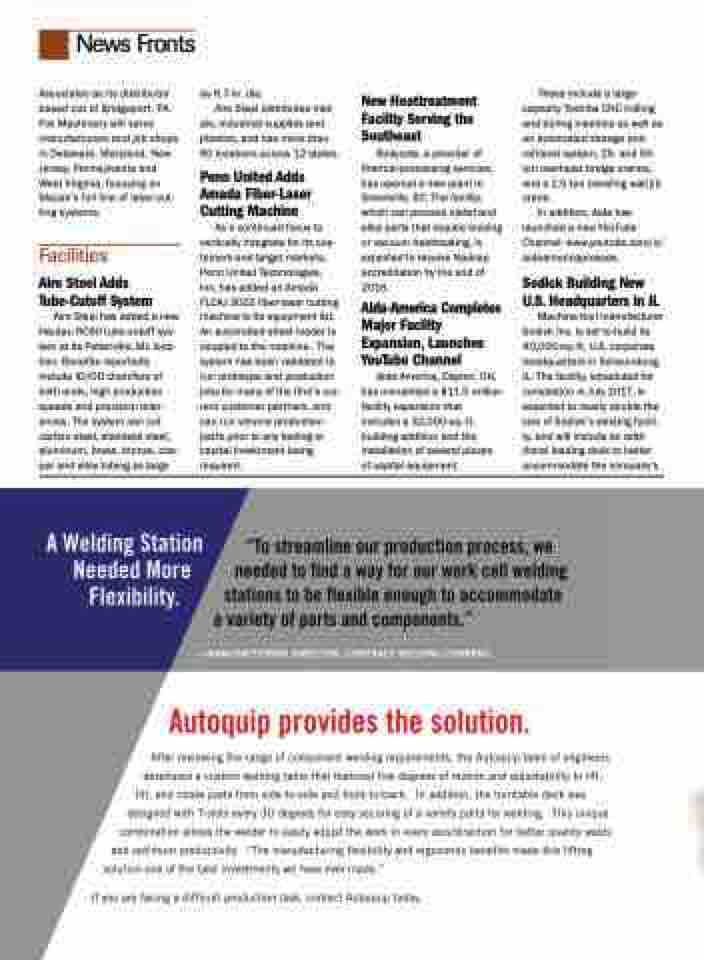 News Fronts
Associates as its distributor based out of Bridgeport, PA. Fox Machinery will serve manufacturers and job shops in Delaware, Maryland, New Jersey, Pennsylvania and West Virginia, focusing on Mazak's full line of laser-cut- ting systems.
Facilities
as 6.7-in. dia.
Alro Steel distributes met-
New Heattreatment Facility Serving the Southeast
These include a large- capacity Toshiba CNC milling and boring machine as well as an automated storage and retrieval system, 25- and 50- ton overhead bridge cranes, and a 2.5-ton traveling wall jib crane.
Alro Steel Adds Tube-Cutoff System
As a continued focus to vertically integrate for its cus- tomers and target markets, Penn United Technologies, Inc. has added an Amada FLCAJ 3015 fiber-laser cutting machine to its equipment list. An automated sheet loader is coupled to the machine. The system has been validated to run prototype and production jobs for many of the firm's cur- rent customer partners, and can run volume production parts prior to any tooling or capital investment being required.
Sodick Building New U.S. Headquarters in IL
Alro Steel has added a new Hautau RC60 tube-cutoff sys- tem at its Potterville, MI, loca- tion. Benefits reportedly include ID/OD chamfers of both ends, high production speeds and precision toler- ances. The system can cut carbon steel, stainless steel, aluminum, brass, bronze, cop- per and alloy tubing as large
Aida-America Completes Major Facility Expansion, Launches YouTube Channel
Machine-tool manufacturer Sodick Inc. is set to build its 40,000-sq.-ft. U.S. corporate headquarters in Schaumburg, IL. The facility, scheduled for completion in July 2017, is expected to nearly double the size of Sodick's existing facili- ty, and will include an addi- tional loading dock to better accommodate the company's
als, industrial supplies and plastics, and has more than 60 locations across 12 states.
Bodycote, a provider of thermal-processing services, has opened a new plant in Greenville, SC. The facility, which can process metal and alloy parts that require brazing or vacuum heattreating, is expected to receive Nadcap accreditation by the end of 2016.
Penn United Adds Amada Fiber-Laser Cutting Machine
In addition, Aida has launched a new YouTube Channel: www.youtube.com/c/ aidaamericapresses.
Aida-America, Dayton, OH, has completed a $11.5 million facility expansion that includes a 32,000-sq.-ft. building addition and the installation of several pieces of capital equipment.