Page 11 - MetalForming September 2016
P. 11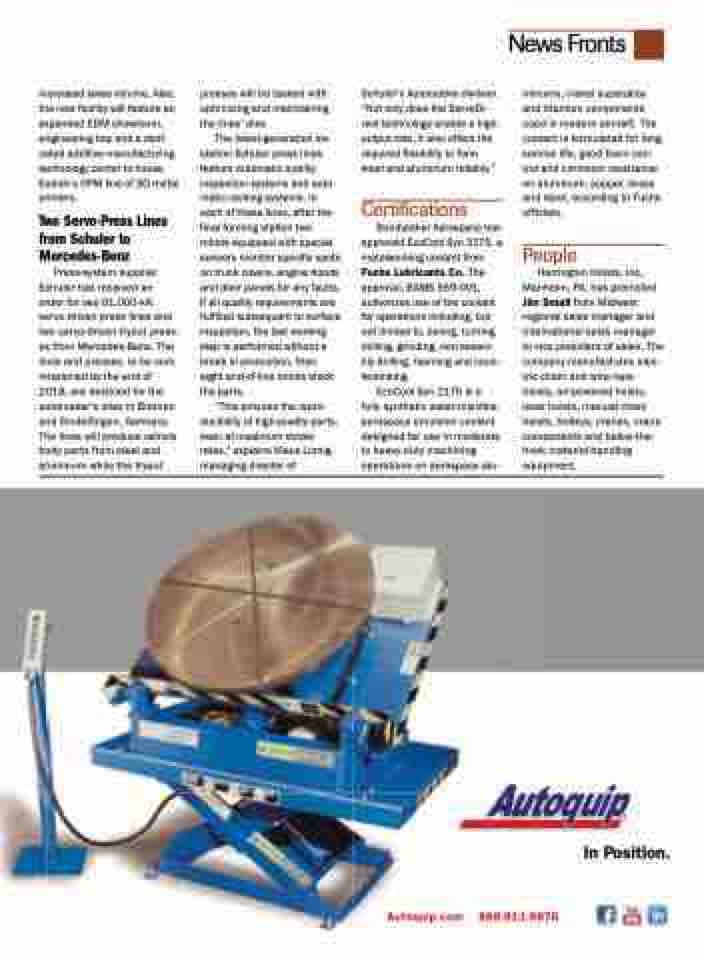 increased sales volume. Also, the new facility will feature an expanded EDM showroom, engineering bay and a dedi- cated additive-manufacturing technology center to house Sodick's OPM line of 3D metal printers.
presses will be tasked with optimizing and maintaining the lines' dies
Schuler's Automotive division. "Not only does the ServoDi- rect technology enable a high output rate, it also offers the required flexibility to form steel and aluminum reliably."
News Fronts
minums, nickel superalloy and titanium components used in modern aircraft. The coolant is formulated for long service life, good foam con- trol and corrosion resistance on aluminum, copper, brass and steel, according to Fuchs officials.
People
Two Servo-Press Lines from Schuler to Mercedes-Benz
Bombardier Aerospace has approved EcoCool Syn 2175, a metalworking coolant from Fuchs Lubricants Co. The approval, BAMS 569-001, authorizes use of the coolant for operations including, but not limited to, boring, turning, milling, grinding, non-assem- bly drilling, reaming and coun- tersinking.
The latest-generation six- station Schuler press lines feature automatic quality inspection systems and auto- matic racking systems. In each of these lines, after the final forming station two robots equipped with special sensors monitor specific spots on trunk covers, engine hoods and door panels for any faults. If all quality requirements are fulfilled subsequent to surface inspection, the last working step is performed without a break in production, then eight end-of-line robots stack the parts.
Certifications
  Press-system supplier Schuler has received an order for two 91,000-kN servo-driven press lines and two servo-driven tryout press- es from Mercedes-Benz. The lines and presses, to be com- missioned by the end of 2018, are destined for the automaker's sites in Bremen and Sindelfingen, Germany. The lines will produce vehicle body parts from steel and aluminum while the tryout
"This ensures the repro- ducibility of high-quality parts, even at maximum stroke rates," explains Klaus Linnig, managing director of
EcoCool Syn 2175 is a fully synthetic water-miscible aerospace emulsion coolant designed for use in moderate to heavy-duty machining operations on aerospace alu-
Harrington Hoists, Inc., Manheim, PA, has promoted Jim Small from Midwest regional sales manager and International sales manager to vice president of sales. The company manufactures elec- tric chain and wire-rope hoists, air-powered hoists, lever hoists, manual chain hoists, trolleys, cranes, crane components and below-the- hook material-handling equipment.