Page 31 - MetalForming-Aug-2018-issue
P. 31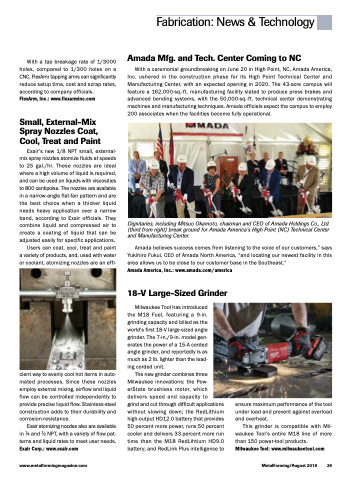 With a tap breakage rate of 1/3000 holes, compared to 1/300 holes on a CNC, FlexArm tapping arms can significantly reduce setup time, cost and scrap rates, according to company officials.
FlexArm, Inc.: www.flexarminc.com
Amada Mfg. and Tech. Center Coming to NC
Small, External-Mix Spray Nozzles Coat, Cool, Treat and Paint
With a ceremonial groundbreaking on June 20 in High Point, NC, Amada America, Inc. ushered in the construction phase for its High Point Technical Center and Manufacturing Center, with an expected opening in 2020. The 43-acre campus will feature a 162,000-sq.-ft. manufacturing facility slated to produce press brakes and advanced bending systems, with the 50,000-sq.-ft. technical center demonstrating machines and manufacturing techniques. Amada officials expect the campus to employ 200 associates when the facilities become fully operational.
Dignitaries, including Mitsuo Okamoto, chairman and CEO of Amada Holdings Co., Ltd. (third from right) break ground for Amada America's High Point (NC) Technical Center and Manufacturing Center.
Amada believes success comes from listening to the voice of our customers," says Yukihiro Fukui, CEO of Amada North America, "and locating our newest facility in this area allows us to be close to our customer base in the Southeast."
Amada America, Inc.: www.amada.com/america
18-V Large-Sized Grinder
 Exair's new 1/8 NPT small, external- mix spray nozzles atomize fluids at speeds to 25 gal./hr. These nozzles are ideal where a high volume of liquid is required, and can be used on liquids with viscosities to 800 centipoise. The nozzles are available in a narrow-angle flat-fan pattern and are the best choice when a thicker liquid needs heavy application over a narrow band, according to Exair officials. They combine liquid and compressed air to create a coating of liquid that can be adjusted easily for specific applications.
Users can coat, cool, treat and paint a variety of products, and, used with water or coolant, atomizing nozzles are an effi-
Fabrication: News & Technology
  cient way to evenly cool hot items in auto- mated processes. Since these nozzles employ external mixing, airflow and liquid flow can be controlled independently to provide precise liquid flow. Stainless-steel construction adds to their durability and corrosion-resistance.
The new grinder combines three Milwaukee innovations: the Pow- erState brushless motor, which delivers speed and capacity to
grind and cut through difficult applications without slowing down; the RedLithium high-output HD12.0 battery that provides 50 percent more power, runs 50 percent cooler and delivers 33 percent more run time than the M18 RedLihtium HD9.0 battery; and RedLink Plus intelligence to
ensure maximum performance of the tool under load and prevent against overload and overheat.
Exair atomizing nozzles also are available in 1⁄4 and 1⁄2 NPT, with a variety of flow pat- terns and liquid rates to meet user needs. Exair Corp.: www.exair.com
This grinder is compatible with Mil- waukee Tool's entire M18 line of more than 150 power-tool products. Milwaukee Tool: www.milwaukeetool.com
www.metalformingmagazine.com
MetalForming/August 2018 29
Milwaukee Tool has introduced the M18 Fuel, featuring a 9-in. grinding capacity and billed as the world's first 18-V large-sized angle grinder. The 7-in./9-in. model gen- erates the power of a 15-A corded angle grinder, and reportedly is as much as 2 lb. lighter than the lead- ing corded unit.