Page 33 - MetalForming-Aug-2018-issue
P. 33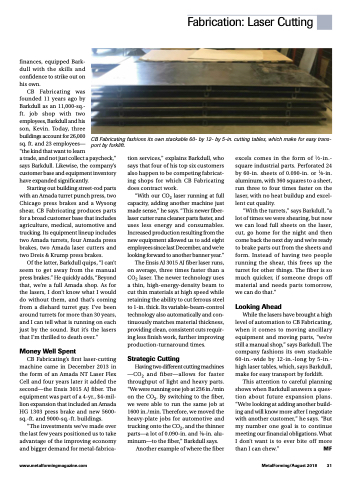 finances, equipped Bark- dull with the skills and confidence to strike out on his own.
CB Fabricating was
founded 11 years ago by
Barkdull as an 11,000-sq.-
ft. job shop with two
employees, Barkdull and his
son, Kevin. Today, three
buildings account for 26,000
sq. ft. and 23 employees—
"the kind that want to learn
a trade, and not just collect a paycheck," says Barkdull. Likewise, the company's customer base and equipment inventory have expanded significantly.
Starting out building street-rod parts with an Amada turret punch press, two Chicago press brakes and a Wysong shear, CB Fabricating produces parts for a broad customer base that includes agriculture, medical, automotive and trucking. Its equipment lineup includes two Amada turrets, four Amada press brakes, two Amada laser cutters and two Dreis & Krump press brakes.
Of the latter, Barkdull quips, "I can't seem to get away from the manual press brakes." He quickly adds, "Beyond that, we're a full Amada shop. As for the lasers, I don't know what I would do without them, and that's coming from a diehard turret guy. I've been around turrets for more than 30 years, and I can tell what is running on each just by the sound. But it's the lasers that I'm thrilled to death over."
Money Well Spent
CB Fabricating's first laser-cutting machine came in December 2013 in the form of an Amada NT Laser Flex Cell and four years later it added the second—the Ensis 3015 AJ fiber. The equipment was part of a 4-yr., $4-mil- lion expansion that included an Amada HG 1303 press brake and new 5600- sq.-ft. and 9000-sq.-ft. buildings.
"The investments we've made over the last few years positioned us to take advantage of the improving economy and bigger demand for metal-fabrica-
www.metalformingmagazine.com
MetalForming/August 2018 31
tion services," explains Barkdull, who says that four of his top six customers also happen to be competing fabricat- ing shops for which CB Fabricating does contract work.
"With our CO2 laser running at full capacity, adding another machine just made sense," he says. "This newer fiber- laser cutter runs cleaner parts faster, and uses less energy and consumables. Increased production resulting from the new equipment allowed us to add eight employees since last December, and we're looking forward to another banner year."
The Ensis AJ 3015 AJ fiber laser runs, on average, three times faster than a CO2 laser. The newer technology uses a thin, high-energy-density beam to cut thin materials at high speed while retaining the ability to cut ferrous steel to 1-in. thick. Its variable-beam-control technology also automatically and con- tinuously matches material thickness, providing clean, consistent cuts requir- ing less finish work, further improving production-turnaround times.
Strategic Cutting
Having two different cutting machines —CO2 and fiber—allows for faster throughput of light and heavy parts. "We were running one job at 236 in./min on the CO2. By switching to the fiber, we were able to run the same job at 1600 in./min. Therefore, we moved the heavy-plate jobs for automotive and trucking onto the CO2, and the thinner parts—a lot of 0.090-in. and 1⁄8-in. alu- minum—to the fiber," Barkdull says.
Another example of where the fiber
excels comes in the form of 1⁄2-in.- square industrial parts. Perforated 24 by 60-in. sheets of 0.090-in. or 1⁄8-in. aluminum, with 360 squares to a sheet, run three to four times faster on the laser, with no heat buildup and excel- lent cut quality.
"With the turrets," says Barkdull, "a lot of times we were shearing, but now we can load full sheets on the laser, cut, go home for the night and then come back the next day and we're ready to brake parts out from the sheets and form. Instead of having two people running the shear, this frees up the turret for other things. The fiber is so much quicker, if someone drops off material and needs parts tomorrow, we can do that."
Looking Ahead
While the lasers have brought a high level of automation to CB Fabricating, when it comes to moving ancillary equipment and moving parts, "we're still a manual shop," says Barkdull. The company fashions its own stackable 60-in.-wide by 12-in.-long by 5-in.- high laser tables, which, says Barkdull, make for easy transport by forklift.
This attention to careful planning shows when Barkdull answers a ques- tion about future expansion plans. "We're looking at adding another build- ing and will know more after I negotiate with another customer," he says. "But my number one goal is to continue meeting our financial obligations. What I don't want is to ever bite off more than I can chew." MF
Fabrication: Laser Cutting
CB Fabricating fashions its own stackable 60- by 12- by 5-in. cutting tables, which make for easy trans- port by forklift.