Page 25 - MetalForming-Jul-2018-issue
P. 25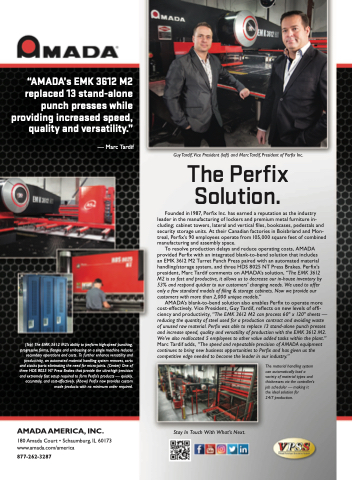 "AMADA's EMK 3612 M2 replaced 13 stand-alone punch presses while providing increased speed, quality and versatility."
— Marc Tardif
(Top) The EMK 3612 M2's ability to perform high-speed punching, progressive forms, flanges and embossing on a single machine reduces secondary operations and costs. To further enhance versatility and productivity, an automated material handling system removes, sorts and stacks parts eliminating the need for micro-joints. (Center) One of three HDS 8025 NT Press Brakes that provide the ultra-high precision and extremely fast setup required to form Perfix's products — quickly, accurately, and cost-effectively. (Above) Perfix now provides custom made products with no minimum order required.
AMADA AMERICA, INC.
180 Amada Court • Schaumburg, IL 60173 www.amada.com/america
877-262-3287
                                                            
The Perfix Solution.
                     -                     -               
                                               "The EMK 3612 M2 is so fast and productive, it allows us to decrease our in-house inventory by                                  
                   -    " The EMK 3612 M2 can process 60"  " sheets — reducing the quantity of steel used for a production contract and avoiding waste                                           "The speed and repeatable precision of AMADA equipment                       
     
The material handling system can automatically load a variety of material types and thicknesses via the controller's job scheduler — making it the ideal solution for
24/7 production.