Page 53 - MetalForming March 2016
P. 53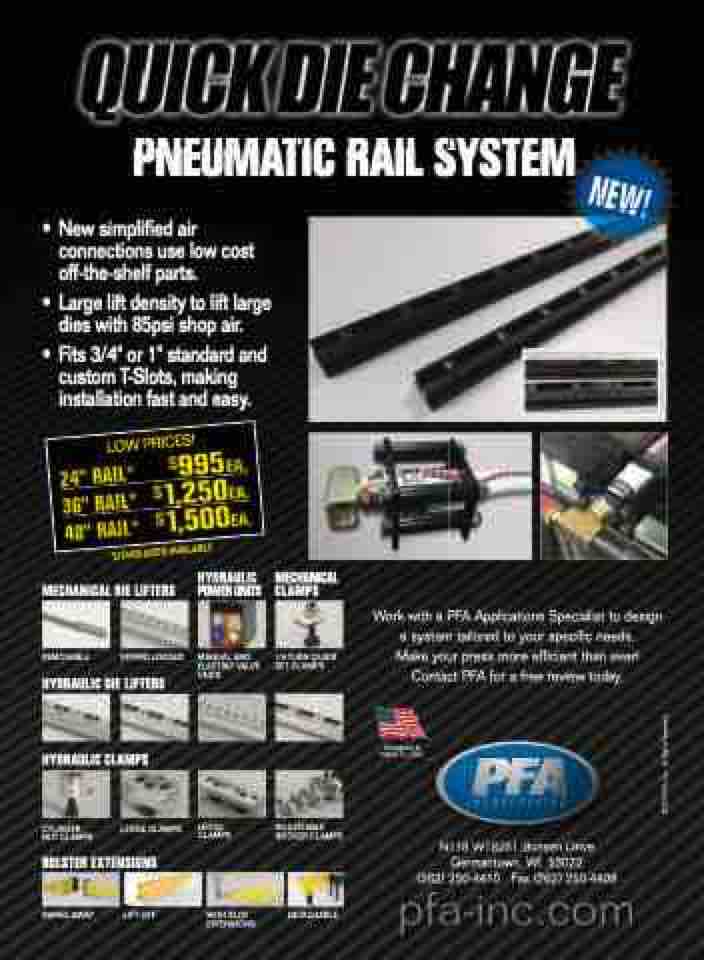 PNEUMATIC RAIL SYSTEM
                                          • Newsimplifiedair connections use low cost off-the-shelf parts.
• Large lift density to lift large dies with 85psi shop air.
• Fits 3/4" or 1" standard and custom T-Slots, making installation fast and easy.
     MECHANICAL DIE LIFTERS
HYDRAULIC POWER UNITS
MANUAL AND ELECTRIC VALVE UNITS
MECHANICAL CLAMPS
1/4 TURN QUICK SET CLAMPS
    REMOVABLE
SPRING LOADED
Work with a PFA Applications Specialist to design a system tailored to your specific needs. Make your press more efficient than ever! Contact PFA for a free review today.
Designed & Made in USA
N118 W18251 Bunsen Drive Germantown, WI 53022
(262) 250-4410 Fax (262) 250-4409
HYDRAULIC DIE LIFTERS
HYDRAULIC CLAMPS
CYLINDER LEDGE CLAMPS NUT CLAMPS
BOLSTER EXTENSIONS
SWING-AWAY LIFT-OFF
LEDGE CLAMPS
WITH SLOT EXTENSIONS
ADJUSTABLE ROCKER CLAMPS
DETACHABLE
pfa-inc.com
                                                                                                                                                                                                                                               NEW!
24" RAIL*
$995EA.
36" RAIL*
$1,250EA.
48" RAIL*
$1,500EA.
LOW PRICES!
*OTHER SIZES AVAILABLE
©2014PFA,Inc. AllRightsReserved.