Page 56 - MetalForming March 2011
P. 56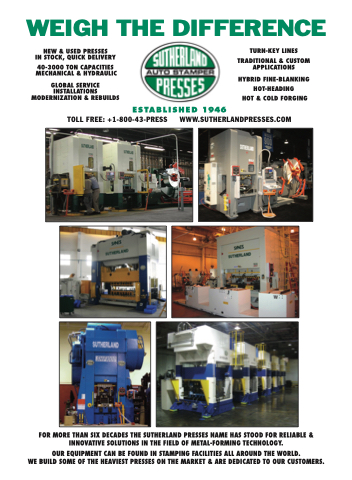 WEIGH THE DIFFERENCE
 NEW & USED PRESSES IN STOCK, QUICK DELIVERY
40-3000 TON CAPACITIES MECHANICAL & HYDRAULIC
GLOBAL SERVICE INSTALLATIONS MODERNIZATION & REBUILDS
TURN-KEY LINES
TRADITIONAL & CUSTOM APPLICATIONS
HYBRID FINE-BLANKING HOT-HEADING
HOT & COLD FORGING
ESTABLISHED 1946
TOLL FREE: +1-800-43-PRESS WWW.SUTHERLANDPRESSES.COM
FOR MORE THAN SIX DECADES THE SUTHERLAND PRESSES NAME HAS STOOD FOR RELIABLE & INNOVATIVE SOLUTIONS IN THE FIELD OF METAL-FORMING TECHNOLOGY.
OUR EQUIPMENT CAN BE FOUND IN STAMPING FACILITIES ALL AROUND THE WORLD.
WE BUILD SOME OF THE HEAVIEST PRESSES ON THE MARKET & ARE DEDICATED TO OUR CUSTOMERS.