Our Latest Issue
Latest Video
Upcoming Events
Upcoming events for MetalForming Magazine!
Free E-Newsletters
Sent bi-weekly to inform you of happenings within the metalforming industry.
Start receiving newsletters and gain access to all content throughout the site.

---
McNichols Gains ISO 9001:2015
Friday, May 25, 2018
McNichols Co., Tampa, FL, supplier of metal products, including perforated, expanded, wire mesh and designer, has achieved certification to ISO 9001:2015 standards. This latest version of ISO 9001 puts greater emphasis on leadership engagement and assists organizations with identifying risks and opportunities in a structured manner. It also addresses supply chain management more effectively.
"It is the primary way to ensure we fulfill our commitment to put customers first, making sure we consistently meet their needs and improve upon their satisfaction," says John Farley, senior vice president and COO of McNichols, adding that it represents the company's "commitment to continuous improvement on an incremental basis as it relates to service, quality and performance."
For more,
www.mcnichols.com
.
---
Newcomb Spring Corp Receives Siemens Supplier Excellence Award
Thursday, May 24, 2018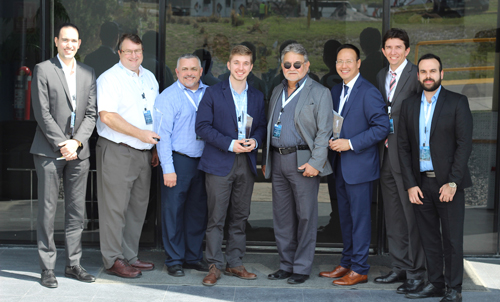 Newcomb Spring Corp., Alpharetta, GA, has been awarded a Siemens Supplier Excellence Award for 2017. Newcomb received top honors among more than 200 suppliers for its performance in four critical areas: logistics, quality, commercial performance, and technology performance. Specific criteria included compliance to specifications, defect rate, purchase order accuracy, and on time delivery. The supplier of springs and metal forms delivered tens of millions of springs to Siemens without a single nonconformance.
"Siemens is a valued, highly integrated customer that holds its suppliers to strict specifications, with tight tolerances and high quality standards," says Keith Porter Jr., general manager of Newcomb Spring's Gastonia, NC, facility. "The award is a significant accomplishment for all the employees at Newcomb Spring."
Newcomb received the Supplier Excellence Award in March at Siemens' Fabrica Monterrey supplier convention in Nuevo Leon, Mexico.
For more,
www.newcombspring.com
.
---
Marposs Launches New Website
Wednesday, May 23, 2018
Marposs Corporation, Auburn Hills, MI, provider of inspection, measurement and process-control solutions, has announced the launch of its re-designed website, which adapts to computer, tablet or mobile phone screen sizes.

The new site features a home page with large images that scroll across the screen that illustrate the various industries it serves and well-organized Products and Support Services information. Also, an automated solution finder offers drop-down menus to assist users in quickly identifying appropriate products and solutions for their specific application as well as an alphabetical listing of the company's entire product line.

---
Visit Our Sponsors