Our Latest Issue
Latest Video
Upcoming Events
Upcoming events for MetalForming Magazine!
Free E-Newsletters
Sent bi-weekly to inform you of happenings within the metalforming industry.
Start receiving newsletters and gain access to all content throughout the site.

---
Lincoln Electric Unveils New Welding Technology and Training Center
Thursday, March 22, 2018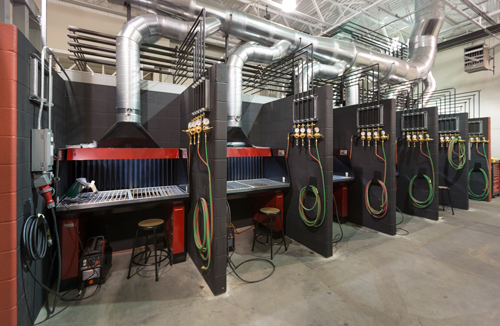 Lincoln Electric's new Welding Technology & Training Center boasts 166 welding and cutting booths for training on various welding processes.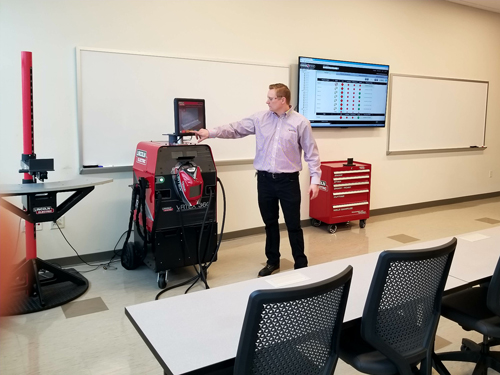 Classrooms in the new center include virtual-reality welding-training systems.
Lincoln Electric officially has opened its Welding Technology and Training Center at its headquarters in Cleveland, OH. A March 21 ribbon-cutting highlighted the company's expanded educational offerings and commemorated the centennial anniversary of its welding school, reportedly the longest continuously running welding school in the world.
The 130,000-sq.-ft. $30-million center focuses on training welding educators, engineers and industrial professionals from around the globe. In fact, the center already has hosted students from as far away as South Africa and Indonesia, stated Jason Scales, business manager of education for Lincoln Electric, at a grand-opening press conference. Besides basic courses and advanced technical welding training for professionals, the company and its new center provide a portfolio of turnkey educational solutions for use in launching welding training at customers' own facilities. Lincoln's education offerings include an extensive educational curriculum, virtual-reality and technology-assisted training tools, welding and cutting equipment and products, and robotic cells.
Watch the video showing the new center.

"Our educational offering and leadership in automation solutions provide meaningful solutions to address the skills gap and capacity constraints facing customers in our industry," said Christopher L. Mapes, chairman, president and CEO of Lincoln Electric, during grand-opening remarks to several hundred employees, students, educators and invited guests.
"We are committed to providing students and customers with the relevant skills and knowledge needed to support career and technical schools, advanced manufacturing, and infrastructure growth," added Scales during his remarks. "Our education model will shape the next generation of welders, managers and industry leaders."
The state-of-the art educational facility features 166 welding and cutting booths (more than doubling the capacity of Lincoln's former onsite offerings), a virtual-reality training lab with 10 Vrtex virtual-reality welding simulators, extensive seminar and welding-school classroom space, and a 100-seat auditorium. Later in 2018, the center is expected to become an American Welding Society-accredited testing facility.
For more information, visit
education.lincolnelectric.com
.
---
State of Manufacturing Report Shows Industry 4.0 in Full Swing
Tuesday, March 20, 2018
The State of Manufacturing Technology (SOMT) report by Troy, MI-based Plex Systems, which surveyed more than 150 respondents representing such industries as aerospace, automotive, and industrial equipment, shows that industry leaders are taking advantage of "technologies that combine the physical and digital to disrupt markets, accelerate innovation and transform customer relationships."
For example, the report notes that cloud computing has become "the foundation for connected manufacturing" with 90 percent of respondents reporting use of cloud-based productivity applications, twice as many as reported in the 2016 study. Meanwhile, 96 percent of respondents note that improvements in connectivity to systems, machines, suppliers and customers is the direct result of cloud systems and 45 percent consider the cloud an important resource as they develop new product introductions.
Another trend worth noting is the connected supply chain, with more than 30 percent of respondents focusing on it today, while another 30 percent expect to employ new technology within the next five years.
Connected manufacturing also makes data collection and aggregation easier than ever. The report shows that twice as many manufacturers as last year are using analytics.
Industry 4.0 also brings with it workforce challenges:
• 30% more manufacturers this year report are looking for more lean-manufacturing expertise.
• 30% more report needing mechanical-engineering skills.
•23% more report a need for more data-analysis skills.
To download the report, visit
www.metalformingmagazine.com/multimedia
.
---
Cutting Tool Consumption Up 6.1 Percent
Tuesday, March 20, 2018
January cutting tool consumption by U.S. manufacturers totaled $183.61 million, up 6.1 percent over January 2017, according to the U.S. Cutting Tool Institute (USCTI) and the Association for Manufacturing Technology (AMT).
"Demand for cutting tools in January 2018 continued to demonstrate the ongoing improvement in manufacturing activity that continued throughout 2017," says Eli Lustgarten, president at ESL Consultants. "New orders and production remain at very strong levels, building a backlog and pointing toward rising industrial production and higher capacity utilization as the year progresses. With an improving global backdrop, the cutting tool sector is headed toward another banner year with sales gain approaching, if not exceeding, 10 percent."
For more,
www.amtonline.org
.
---
Visit Our Sponsors