Our Latest Issue
Latest Video
Upcoming Events
Upcoming events for MetalForming Magazine!
Free E-Newsletters
Sent bi-weekly to inform you of happenings within the metalforming industry.
Start receiving newsletters and gain access to all content throughout the site.

---
Esab Changes Name of Sandvik Welding Consumable to Exaton
Thursday, September 20, 2018
Following its acquisition of Sandvik Welding Consumables earlier this year, Esab Welding & Cutting Products, Annapolis Junction, MD, announced that beginning November 1, the Sandvik products will go to market under the name, Exaton, an Esab brand. Sandvik website and mobile-app content will transfer to the Esab site. The Exaton portfolio includes solid welding wire and rods, electrodes, flux, thermal spray wire and weld-finishing chemical products.

---
Industry Movers & Shakers
Wednesday, September 19, 2018
Dallas Industries, a Troy, MI-based provider of coil-handling and press-feeding equipment has announced the appointment Robert Herrada as regional sales manager. Herrada will primarily assist in handling accounts in Ohio, Oklahoma, Texas and Michigan.
---
Site Emphasizes Customer Service
Tuesday, September 18, 2018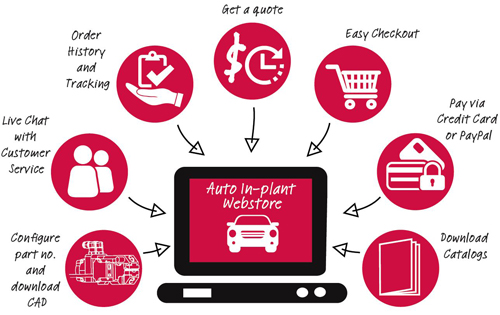 IMI Precision Engineering's
newly launched website
provides 3D product configurators, videos, live chats with customer service, engineering, sales and finance teams. Now press-room operators, engineers and designers can research nearly 7000 tooling components and configure the right part number for their applications, place an order without waiting for a quote, pay with a credit card and track shipping. Also available is a downloadable brochure detailing the Saline, MI-based company's products and services.
---
Visit Our Sponsors