Servo Press Technology Experience
MetalForming magazine is offering executives, engineers and metalforming professionals an opportunity to learn about the latest developments in servo press technology. Participate in the entire experience, which includes a live event at the Hilton Garden Inn Nashville in Nashville, TN, and a series of 3 free webinars, or sign up just for the individual webinars. It's your choice—the full package or a la carte.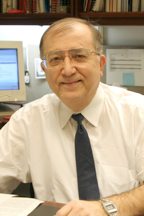 Taylan Altan
October 7, 8 a.m. - 12 p.m. EDT
Hilton Garden Inn Nashville, 1715 Broadway, Nashville, TN 37203

An in-depth look at servo-press technology with case study presentations and breakout sessions with press builders/sponsors in private conference rooms.
• Taylan Altan, Center for Precision Forming (CPF), the Ohio State University,
 will discuss the results of the work being performed at the CPF on forming AHHS and AL alloys.

• Komatsu will provide a live feed to a customer's facility to illustrate how it uses its servo presses, including an analysis of press setup and programming.
• Seyi will explain how to apply the servo-vibration process to perform high-tolerance drawing.
• Hyson will address servo technology as it relates to complimenting force solutions, and will enable users to rethink the way they design their processes; tackle the challenges of higher strength steels and advanced materials; overcome part quality problems; and reduce issues regarding press wear.
September 4, 2 - 3 p.m. EDT
By Taylan Altan, Center for Precision Forming, the Ohio State University

The mechanical servo drive press allows a) the variation and control of the ram speed during the press stroke, b) faster cycle time, and c) precise control of the ram position, allowing easier set up. These capabilities can be used to a) increase productivity, i.e. strokes per minute, in forming large automotive panels, b) improve formability in forming components from difficult to form materials such as AL alloys and AHSS. In forming AHSS (DP 600, DP780, DP 980, TRIP, etc) temperatures at the die/sheet interface increase considerably ( up to 100C or more) resulting in negative effects in lubricant performance. Thus, control of ram speed during deformation can achieve improvements in metal flow, draw depth and part definition as well as reduction in scrap rate.
These issues will be discussed in this presentation using selected examples from ongoing research projects.
FREE
September 11, 2 - 3 p.m. EDT
By Seyi America

Seyi aims to fill the gap in knowledge for part designers and tool and die makers, by presenting an objective approach to servo die making. Many die shops say "We go by what our customers give us. If they do not have design experience with servo, then they do not change their approach." To Seyi, this sounds like a need for die houses to educate their customers. We will demonstrate why/if electronic overload and frame rigidity impact the way the die is designed.
FREE
September 18, 2 - 3 p.m. EDT

By Jim Landowski, Komatsu

On the agenda: a review of how servo-press technology has evolved during the last decade, and how innovation has provided advantages to metalformers. Then we'll describe examples of how stampers are using servo-press technology to improve productivity, performance and flexibility. Along with Jim Landowski, Komatsu, the webinar will include a case study on metal stamper RTM Trend Inc., Franklin Park, IL, presented by Die Shop Manager Mark Brow.

FREE
"I found the basic information on how the Servo Press Technology works and the benefits it provides to be most useful. The speakers did a great job at explaining the pros and cons of the technology, which made the content very informative."
– Bridget Darby, Hyson Products

"The Servo-Press Applications were most useful. I would definitely recommend this event to others in the future. You can never get enough case studies!"
– Adam Groseclose, OSU