Page 61 - MetalForming September 2016
P. 61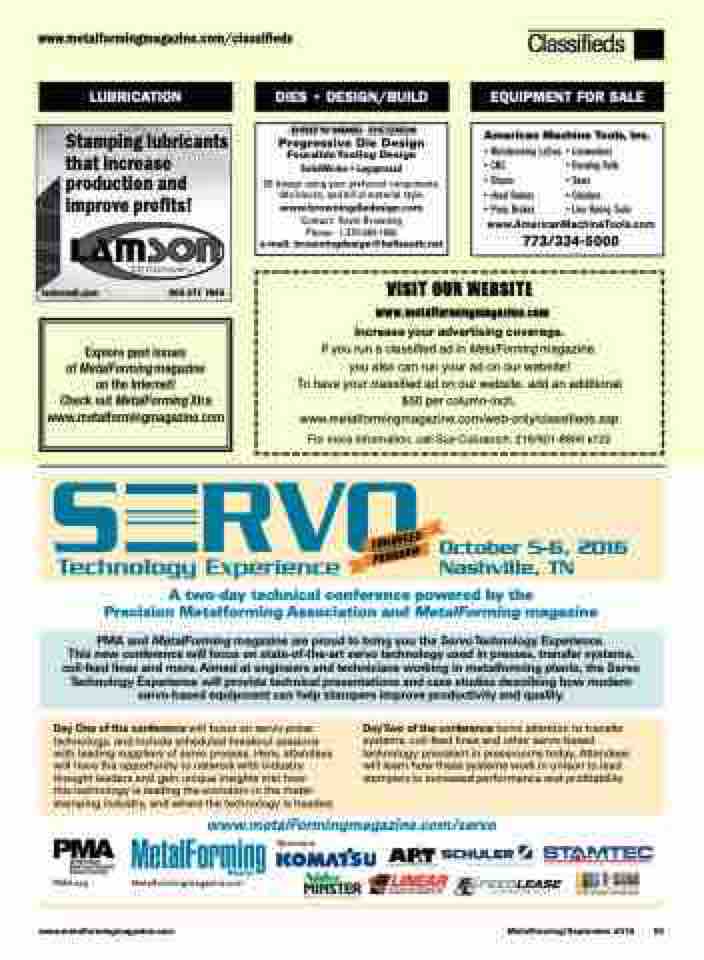 www.metalformingmagazine.com/classifieds
Classifieds
LUBRICATION
Stamping lubricants that increase production and improve profits!
DIES • DESIGN/BUILD
Progressive Die Design Fourslide Tooling Design
SolidWorks • Logopress3
3D design using your preferred components, title blocks, and bill of material style. www.browningdiedesign.com Contact: Kevin Browning
Phone: 1-270-684-1050
e-mail: browningdesign@bellsouth.net
EQUIPMENT FOR SALE
American Machine Tools, Inc.
lamsonoil.com
800 577 7895
VISIT OUR WEBSITE
Explore past issues
of MetalForming magazine
on the Internet!
Check out MetalForming Xtra www.metalformingmagazine.com
Day One of the conference will focus on servo-press technology, and include scheduled breakout sessions with leading suppliers of servo presses. Here, attendees will have the opportunity to network with industry thought leaders and gain unique insights into how
this technology is leading the evolution in the metal- stamping industry, and where the technology is headed.
www.metalFormingmagazine.com/servo
PMA.org MetalFormingmagazine.com
www.metalformingmagazine.com
MetalForming/September 2016 59
Sponsors:
www.metalformingmagazine.com
If you run a classified ad in MetalForming magazine,
you also can run your ad on our website!
To have your classified ad on our website, add an additional $50 per column-inch. www.metalformingmagazine.com/web-only/classifieds.asp For more information, call Sue Cubranich: 216/901-8800 x122
October 5-6, 2016 Nashville, TN
A two-day technical conference powered by the Precision Metalforming Association and MetalForming magazine
PMA and MetalForming magazine are proud to bring you the ServoTechnology Experience.
This new conference will focus on state-of-the-art servo technology used in presses, transfer systems, coil-feed lines and more. Aimed at engineers and technicians working in metalforming plants, the Servo Technology Experience will provide technical presentations and case studies describing how modern servo-based equipment can help stampers improve productivity and quality.
Increase your advertising coverage.
• Metalworking Lathes • CNC
• Shears
• Hand Brakes
• Press Brakes
• Ironworkers
• Bending Rolls
• Saws
• Grinders
• Line Boring Tools
www.AmericanMachineTools.com
773/334-5000
ENHANCED PROGRAM
DayTwo of the conference turns attention to transfer systems, coil-feed lines and other servo-based technology prevalent in pressrooms today. Attendees will learn how these systems work in unison to lead stampers to increased performance and profitability.