Page 17 - MetalForming March 2016
P. 17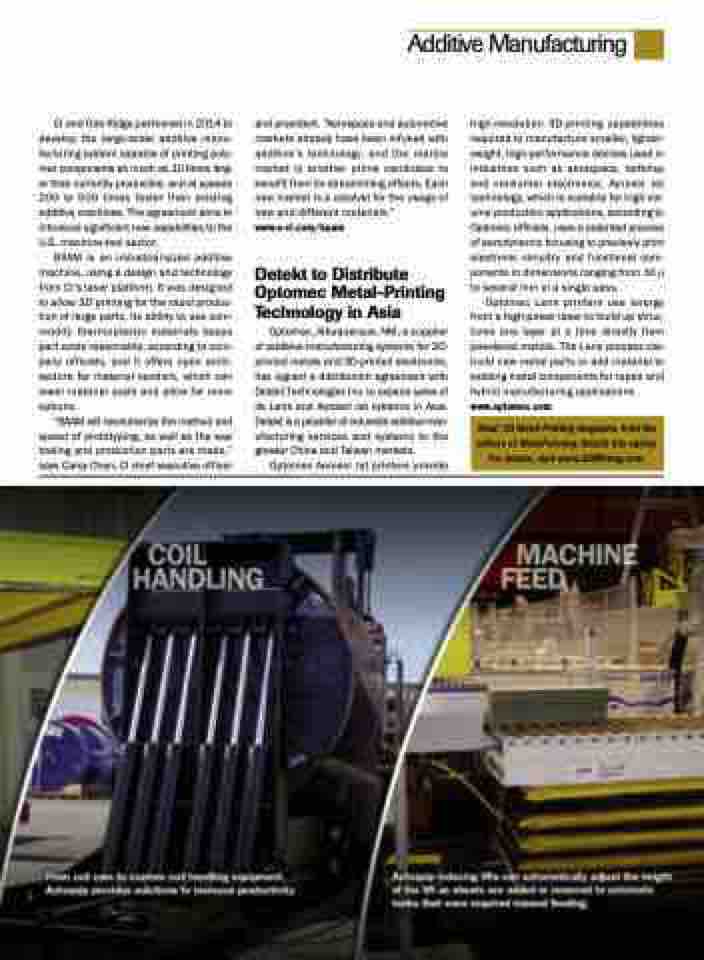 CI and Oak Ridge partnered in 2014 to develop the large-scale additive manu- facturing system capable of printing poly- mer components as much as 10 times larg- er than currently producible, and at speeds 200 to 500 times faster than existing additive machines. The agreement aims to introduce significant new capabilities to the U.S. machine-tool sector.
and president. "Aerospace and automotive markets already have been infused with additive's technology, and the marine market is another prime candidate to benefit from its streamlining effects. Each new market is a catalyst for the usage of new and different materials." www.e-ci.com/baam
high-resolution 3D-printing capabilities required to manufacture smaller, lighter- weight, high-performance devices used in industries such as aerospace, defense and consumer electronics. Aerosol Jet technology, which is scalable for high-vol- ume production applications, according to Optomec officials, uses a patented process of aerodynamic focusing to precisely print electronic circuitry and functional com- ponents in dimensions ranging from 10 μ to several mm in a single pass.
BAAM is an industrial-sized additive machine, using a design and technology from CI's laser platform. It was designed to allow 3D printing for the rapid produc- tion of large parts. Its ability to use com- modity thermoplastic materials keeps part costs reasonable, according to com- pany officials, and it offers open archi- tecture for material vendors, which can lower material costs and allow for more options.
Detekt to Distribute Optomec Metal-Printing Technology in Asia
Optomec Lens printers use energy from a high-power laser to build up struc- tures one layer at a time directly from powdered metals. The Lens process can build new metal parts or add material to existing metal components for repair and hybrid manufacturing applications. www.optomec.com
"BAAM will revolutionize the method and speed of prototyping, as well as the way tooling and production parts are made," says Carey Chen, CI chief executive officer
Optomec, Albuquerque, NM, a supplier of additive-manufacturing systems for 3D- printed metals and 3D-printed electronics, has signed a distribution agreement with Detekt Technologies Inc. to expand sales of its Lens and Aerosol Jet systems in Asia. Detekt is a provider of industrial additive-man- ufacturing services and systems to the greater China and Taiwan markets.
Additive Manufacturing
 Optomec Aerosol Jet printers provide
New! 3D Metal Printing magazine, from the editors of MetalForming, debuts this spring. For details, visit www.3DMPmag.com.