Page 22 - MetalForming December 2019
P. 22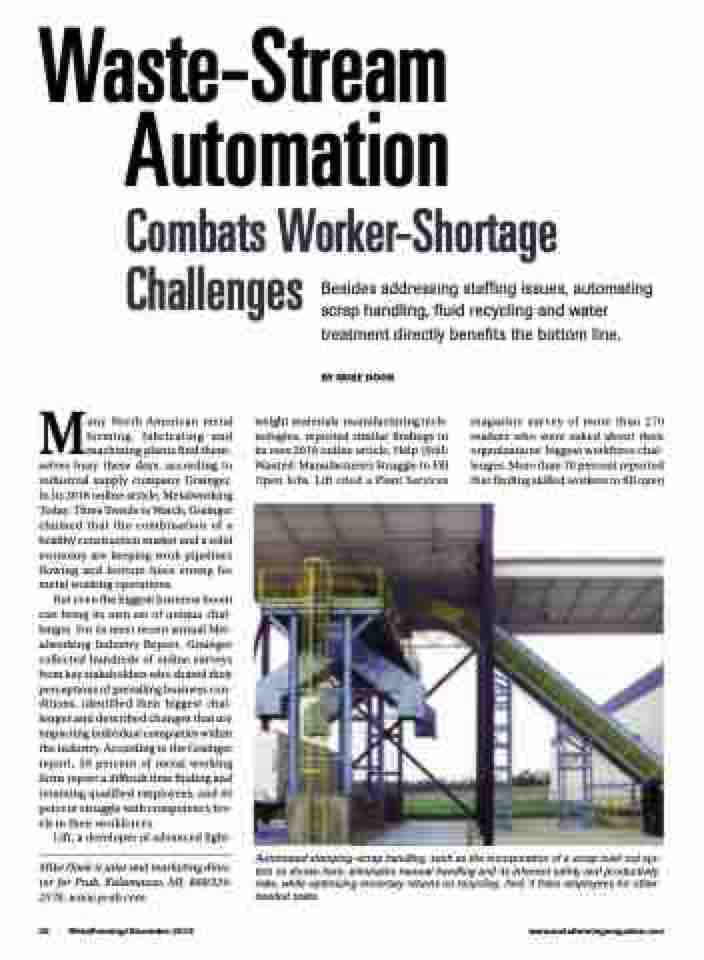 Waste-Stream Automation
Combats Worker-Shortage
Challenges
Many North American metal forming, fabricating and machining plants find them- selves busy these days, according to industrial supply company Grainger. In its 2018 online article, Metalworking Today: Three Trends to Watch, Grainger claimed that the combination of a healthy construction market and a solid economy are keeping work pipelines flowing and bottom lines strong for metal working operations.
But even the biggest business boom can bring its own set of unique chal- lenges. For its most recent annual Met- alworking Industry Report, Grainger collected hundreds of online surveys from key stakeholders who shared their perceptions of prevailing business con- ditions, identified their biggest chal- lenges and described changes that are impacting individual companies within the industry. According to the Grainger report, 59 percent of metal working firms report a difficult time finding and retaining qualified employees, and 45 percent struggle with competency lev- els in their workforces.
Lift, a developer of advanced light-
Mike Hook is sales and marketing direc- tor for Prab, Kalamazoo, MI; 888/324- 2576; www.prab.com.
BY MIKE HOOK
weight materials-manufacturing tech- nologies, reported similar findings in its own 2018 online article, Help (Still) Wanted: Manufacturers Struggle to Fill Open Jobs. Lift cited a Plant Services
magazine survey of more than 270 readers who were asked about their organizations' biggest workforce chal- lenges. More than 70 percent reported that finding skilled workers to fill open
Besides addressing staffing issues, automating scrap handling, fluid recycling and water treatment directly benefits the bottom line.
 20 MetalForming/December 2019
www.metalformingmagazine.com
Automated stamping-scrap handling, such as the incorporation of a scrap load-out sys- tem as shown here, eliminates manual handling and its inherent safety and productivity risks, while optimizing monetary returns on recycling. And, it frees employees for other needed tasks.