Page 7 - MetalForming June 2019
P. 7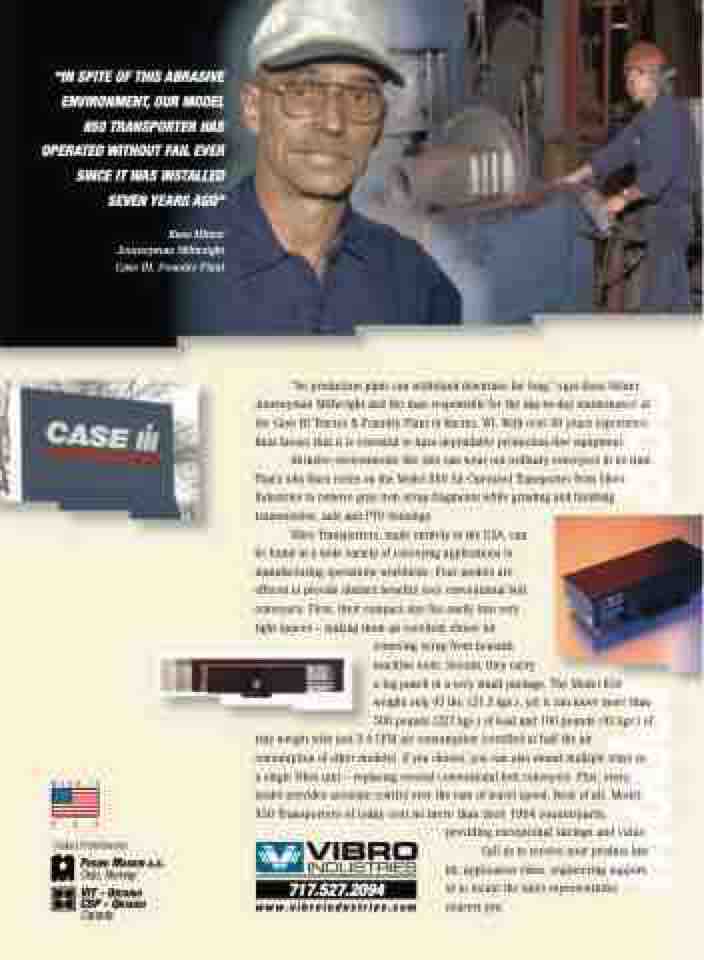 "IN SPITE OF THIS ABRASIVE ENVIRONMENT, OUR MODEL 850 TRANSPORTER HAS OPERATED WITHOUT FAIL EVER SINCE IT WAS INSTALLED SEVEN YEARS AGO"
Russ Milner Journeyman Millwright Case IH, Foundry Plant
MADE IN
USA
Global Distribution
FOSMO MASKIN A.S.
Oslo, Norway
VIT - ONTARIO CSP - ONTARIO Canada
"No production plant can withstand downtime for long," says Russ Milner, Journeyman Millwright and the man responsible for the day-to-day maintenance at the Case IH Tractor & Foundry Plant in Racine, WI. With over 30 years experience, Russ knows that it is essential to have dependable production-line equipment.
Abrasive environments like this can wear out ordinary conveyers in no time. That's why Russ relies on the Model 850 Air-Operated Transporter from Vibro Industries to remove gray iron scrap fragments while grinding and finishing transmission, axle and PTO housings.
Vibro Transporters, made entirely in the USA, can be found in a wide variety of conveying applications in manufacturing operations worldwide. Four models are offered to provide distinct benefits over conventional belt conveyors. First, their compact size fits easily into very tight spaces – making them an excellent choice for
removing scrap from beneath
machine tools. Second, they carry
a big punch in a very small package. The Model 850 weighs only 47 lbs. (21.3 kgs.), yet it can move more than 500 pounds (227 kgs.) of load and 100 pounds (45 kgs.) of
tray weight with just 3.4 CFM air consumption (certified at half the air consumption of other models). If you choose, you can also mount multiple trays to a single Vibro unit – replacing several conventional belt conveyors. Plus, every model provides accurate control over the rate of travel speed. Best of all, Model 850 Transporters of today cost no more than their 1994 counterparts,
                               717.527.2094
www.vibroindustries.com
providing exceptional savings and value. Call us to receive your product line kit, application video, engineering support,
or to locate the sales representative nearest you.