Page 10 - MetalForming June 2019
P. 10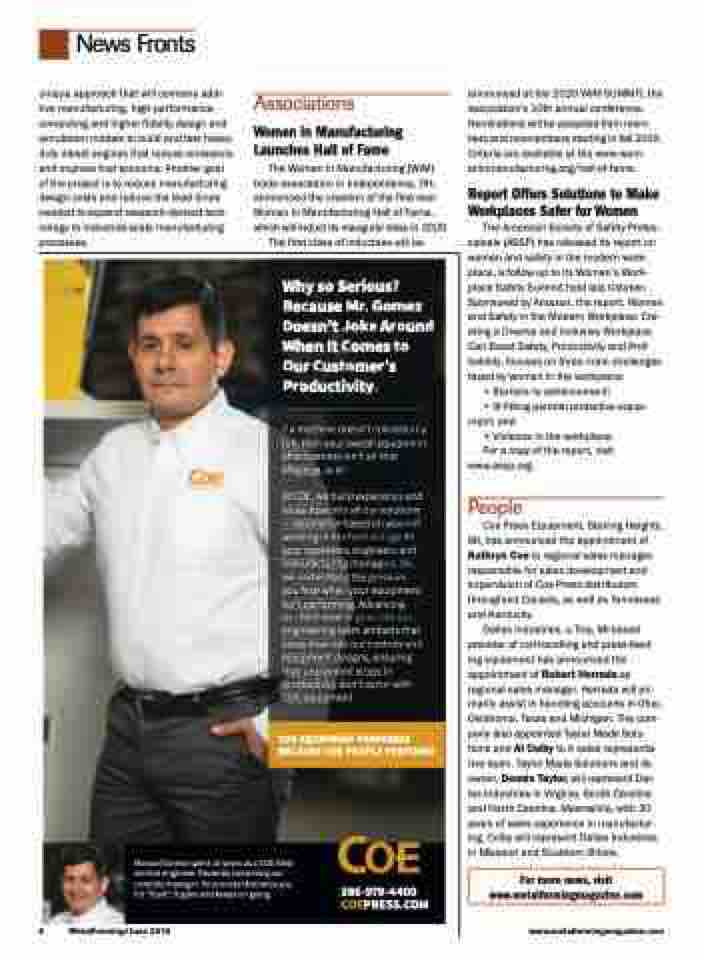 News Fronts
unique approach that will combine addi- tive manufacturing, high-performance computing and higher fidelity design and simulation models to build and test heavy- duty diesel engines that reduce emissions and improve fuel economy. Another goal of the project is to reduce manufacturing design costs and reduce the lead times needed to expand research-derived tech- nology to industrial-scale manufacturing processes.
Associations
Women in Manufacturing Launches Hall of Fame
The Women in Manufacturing (WiM) trade association in Independence, OH, announced the creation of the first-ever Women in Manufacturing Hall of Fame, which will induct its inaugural class in 2020.
The first class of inductees will be
Bec
announced at the 2020 WiM SUMMIT, the association's 10th annual conference. Nominations will be accepted from mem- bers and nonmembers starting in fall 2019. Criteria are available at the www.wom- eninmanufacturing.org/hall-of-fame.
Report Offers Solutions to Make Workplaces Safer for Women
The American Society of Safety Profes- sionals (ASSP) has released its report on women and safety in the modern work- place, a follow-up to its Women's Work- place Safety Summit held last October. Sponsored by Amazon, the report, Women and Safety in the Modern Workplace: Cre- ating a Diverse and Inclusive Workplace Can Boost Safety, Productivity and Prof- itability, focuses on three main challenges faced by women in the workplace:
• Barriers to advancement;
• Ill-fitting peronal protective equip- ment; and
• Violence in the workplace.
For a copy of the report, visit www.assp.org.
People
Coe Press Equipment, Sterling Heights, MI, has announced the appointment of Kathryn Coe to regional sales manager, responsible for sales development and supervision of Coe Press distributors throughout Canada, as well as Tennessee and Kentucky.
Dallas Industries, a Troy, MI-based provider of coil-handling and press-feed- ing equipment has announced the appointment of Robert Herrada as regional sales manager. Herrada will pri- marily assist in handling accounts in Ohio, Oklahoma, Texas and Michigan. The com- pany also appointed Taylor Made Solu- tions and Al Colby to it sales representa- tive team. Taylor Made Solutions and its owner, Dennis Taylor, will represent Dal- las Industries in Virginia, South Carolina and North Carolina. Meanwhile, with 30 years of sales experience in manufactur- ing, Colby will represent Dallas Industries in Missouri and Southern Illinois.
For more news, visit www.metalformingmagazine.com
    Why so Serious
?
. Gomez
   ause Mr
.
      Doesn't Jok
ound
e
eAr
      When It Comes t
o
ectiveness isn't all that
   Our C
Pr
usto
omer
'
      oductivity
s
.
.
      If a machine do
oesn't c
onsistently all equipment
       run, then your over
ef ef
      f
    f
?
OE, we build experienc
know-how int
— experienc

your oper
manuf
ective, is it
    A
tC
e and o all our solutions
         e based on ye

    
ar
sof 
 
                         at
  
or
s and s. So,
      act
s, engineer
uring manag
er
      e
e when your equipment
f
 
we under
st
    you f
essur
ac isn't per
orming. Adv
and the pr
         
ancing



  am embeds that
                         engineering t
 
 
e
a
    ols and equipment designs, ensuring
know-how int
oourc
ontr
       that unplanne productivity don't oc
C
d
dst
        OE equipment.
ops in
cur with
                  
service engineer. Recently becoming our
controls manager, he ensures that once you
        586-979-4400
COEPRESS.COM
8 MetalForming/June 2019
www.metalformingmagazine.com
COE EQUIPMENT PERFORMS BECAUSE COE PEOPLE PERFORM!