Page 12 - MetalForming May 2019
P. 12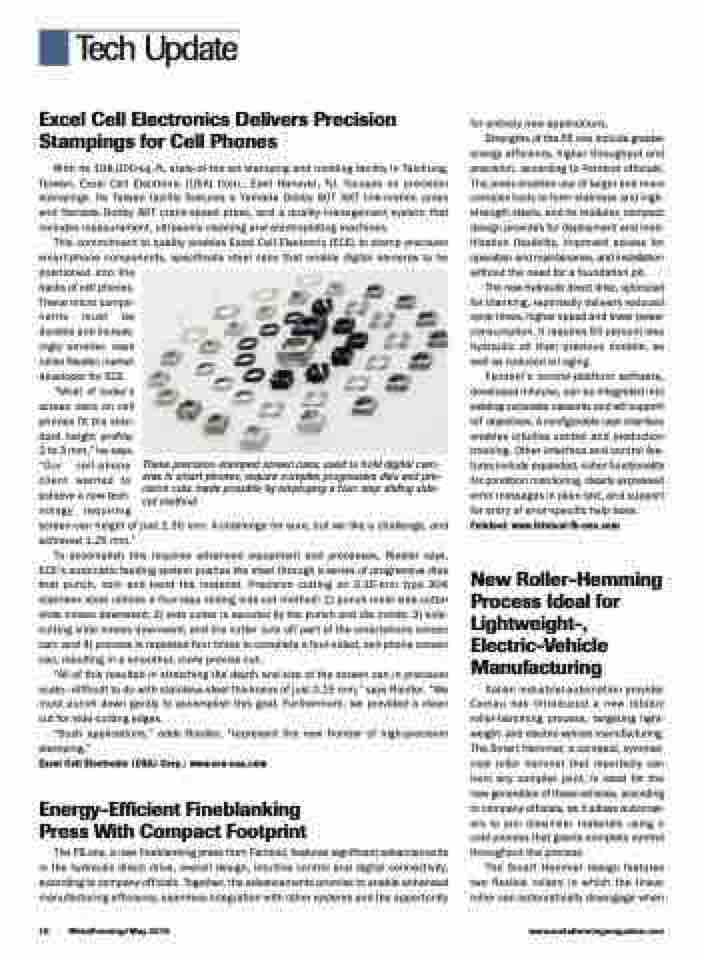 Tech Update
Excel Cell Electronics Delivers Precision Stampings for Cell Phones
With its 108,000-sq.-ft. state-of-the-art stamping and molding facility in Taichung, Taiwan, Excel Cell Electronic (USA) Corp., East Hanover, NJ, focuses on precision stampings. Its Taiwan facility features a Yamada Dobby 80T NXT link-motion press and Yamada Dobby 80T crank-speed press, and a quality-management system that includes measurement, ultrasonic-cleaning and electroplating machines.
This commitment to quality enables Excel Cell Electronic (ECE) to stamp precision smart-phone components, specifically steel cans that enable digital cameras to be positioned into the
backs of cell phones.
These micro compo- nents must be durable and increas- ingly smaller, says Julian Riedler, market developer for ECE.
"Most of today's
screen cans on cell
phones fit the stan-
dard height profile:
2 to 3 mm," he says.
"Our cell-phone
client wanted to
achieve a new tech-
nology requiring
screen-can height of just 1.35 mm. A challenge for sure, but we like a challenge, and achieved 1.25 mm."
To accomplish this requires advanced equipment and processes, Riedler says. ECE's automatic feeding system pushes the steel through a series of progressive dies that punch, coin and bend the material. Precision cutting on 0.15-mm type 304 stainless steel utilizes a four-step sliding side-cut method: 1) punch-mold side-cutter slide moves downward; 2) side cutter is secured by the punch and die molds; 3) side- cutting slide moves downward, and the cutter cuts off part of the smartphone screen can; and 4) process is repeated four times to complete a four-sided, cell-phone screen can, resulting in a smoother, more precise cut.
"All of this resulted in stretching the depth and size of the screen can in precision scale—difficult to do with stainless-steel thickness of just 0.15 mm," says Riedler. "We must punch down gently to accomplish this goal. Furthermore, we provided a clean cut for side-cutting edges.
"Such applications," adds Riedler, "represent the new frontier of high-precision stamping."
Excel Cell Electronic (USA) Corp.: www.ece-usa.com
Energy-Efficient Fineblanking Press With Compact Footprint
The FB one, a new fineblanking press from Feintool, features significant advancements in the hydraulic direct drive, overall design, intuitive control and digital connectivity, according to company officials. Together, the advancements promise to enable enhanced manufacturing efficiency, seamless integration with other systems and the opportunity
for entirely new applications.
Strengths of the FB one include greater
energy efficiency, higher throughput and precision, according to Feintool officials. The press enables use of larger and more complex tools to form stainless and high- strength steels, and its modular, compact design provides for deployment and mod- ification flexibility, improved access for operation and maintenance, and installation without the need for a foundation pit.
The new hydraulic direct drive, optimized for blanking, reportedly delivers reduced cycle times, higher speed and lower power consumption. It requires 50 percent less hydraulic oil than previous models, as well as reduced oil aging.
Feintool's control-platform software, developed inhouse, can be integrated into existing corporate networks and will support IoT objectives. A configurable user interface enables intuitive control and production tracking. Other interface and control fea- tures include expanded, richer functionality for condition monitoring, clearly expressed error messages in plain text, and support for entry of error-specific help texts. Feintool: www.feintool-fb-one.com
New Roller-Hemming Process Ideal for Lightweight-, Electric-Vehicle Manufacturing
Italian industrial-automation provider Comau has introduced a new robotic roller-hemming process, targeting light- weight- and electric-vehicle manufacturing. The Smart Hemmer, a compact, symmet- rical roller hemmer that reportedly can hem any complex joint, is ideal for the new generation of these vehicles, according to company officials, as it allows automak- ers to join dissimilar materials using a cold process that grants complete control throughout the process.
The Smart Hemmer design features two flexible rollers in which the linear roller can automatically disengage when
 10 MetalForming/May 2019
www.metalformingmagazine.com
These precision-stamped screen cans, used to hold digital cam- eras in smart phones, require complex progressive dies and pre- cision cuts made possible by employing a four-step sliding side- cut method.