Page 10 - MetalForming May 2019
P. 10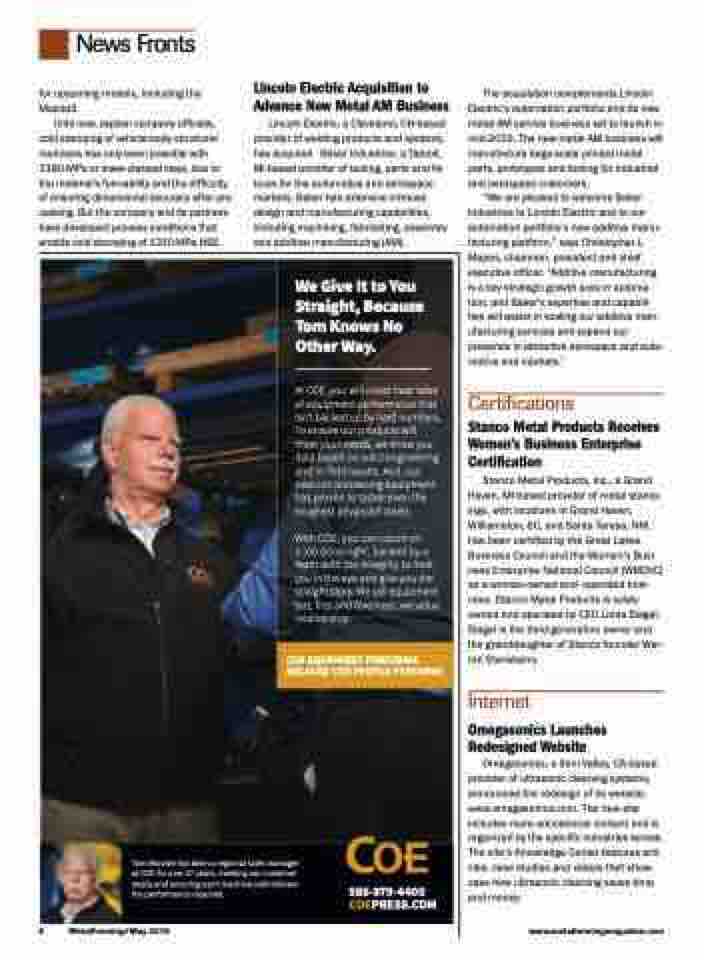 News Fronts
for upcoming models, including the Mazda3.
Until now, explain company officials, cold stamping of vehicle-body structural members has only been possible with 1180-MPa or lower-classed steel, due to the material's formability and the difficulty of ensuring dimensional accuracy after pro- cessing. But the company and its partners have developed process conditions that enable cold stamping of 1310-MPa HSS.
Lincoln Electric Acquisition to Advance New Metal AM Business
Lincoln Electric, a Cleveland, OH-based provider of welding products and systems, has acquired Baker Industries, a Detroit, MI-based provider of tooling, parts and fix- tures for the automotive and aerospace markets. Baker has extensive inhouse design and manufacturing capabilities, including machining, fabricating, assembly and additive manufacturing (AM).
We Give It to You Straight, Because Tom Knows No Other Way.
At COE, you will never hear tales of equipment performance that isn't backed up by hard numbers. To ensure our products will meet your needs, we show you data based on solid engineering      new coil processing equipment has proven to tackle even the toughest advanced steels.
With COE, you can count on
a job done right, backed by a team with the integrity to look you in the eye and give you the straight story. We sell equipment       relationship.
The acquisition complements Lincoln Electric's automation portfolio and its new metal AM service business set to launch in mid-2019. The new metal AM business will manufacture large-scale printed metal parts, prototypes and tooling for industrial and aerospace customers.
"We are pleased to welcome Baker Industries to Lincoln Electric and to our automation portfolio's new additive manu- facturing platform," says Christopher L. Mapes, chairman, president and chief executive officer. "Additive manufacturing is a key strategic growth area in automa- tion, and Baker's expertise and capabili- ties will assist in scaling our additive man- ufacturing services and expand our presence in attractive aerospace and auto- motive end markets."
Certifications
Stanco Metal Products Receives Women's Business Enterprise Certification
Stanco Metal Products, Inc., a Grand Haven, MI-based provider of metal stamp- ings, with locations in Grand Haven, Williamston, SC, and Santa Teresa, NM, has been certified by the Great Lakes Business Council and the Women's Busi- ness Enterprise National Council (WBENC) as a woman-owned and -operated busi- ness. Stanco Metal Products is solely owned and operated by CEO Linda Slagel. Slagel is the third-generation owner and the granddaughter of Stanco founder War- ren Stansberry.
Internet
Omegasonics Launches Redesigned Website
Omegasonics, a Simi Valley, CA-based provider of ultrasonic cleaning systems, announced the redesign of its website, www.omegasonics.com. The new site includes more educational content and is organized by the specific industries serves. The site's Knowledge Center features arti- cles, case studies and videos that show- case how ultrasonic cleaning saves time and money.
             Tom Brockie has been a regional sales manager
at COE for over 27 years, meeting our customer
needs and ensuring each machine sold delivers
the performance required. 586-979-4400
COEPRESS.COM
8 MetalForming/May 2019
www.metalformingmagazine.com
COE EQUIPMENT PERFORMS BECAUSE COE PEOPLE PERFORM!