MetalForming Xtra Feature
September 12, 2018
Wednesday, September 12, 2018
If you are having trouble viewing this email, view it online
Follow Us on

Twitter | LinkedIn | Facebook | MetalFormingMagazine.com
Auto Industry's Efforts to Lighten Up Create Lubrication Challenges

The trend toward lightweight vehicle parts is driving changes in manufacturing processes and metalworking fluids. Read more. And to learn more about lubrication innovations, register now for Lubrication Technology for Metalformers, February 12-13, Schaumburg (Chicago), IL, powered by MetalForming with support by the Society of Tribologists and Lubrication Engineers (STLE).

Introducing Amada Marvel, Inc.

Following its acquisition of Wisc.-based Marvel Mfg., Inc., Japan-based Amada Group has announced the formation of Amada Marvel, Inc. Read more.

Announcing Ohio's Manufacturing Workforce Partnership

Yaskawa Motoman, Dayton, OH and the Robotics & Advanced Manufacturing Technology Education Collaborative (RAMTEC), Marion, OH, have announced the formation of the Ohio Manufacturing Workforce Partnership to create a workforce development model and to provide Ohio educators and students with STEM-aligned curriculum and training to become proficient in Industry 4.0 technologies. Read more.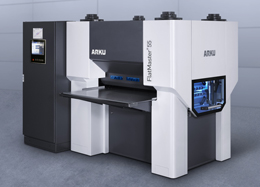 ARKU Precision Levelers

ARKU manufactures precision levelers which flatten and relieve the internal stresses for parts/sheets prior to or after various methods of cutting (laser, plasma, oxyfuel, etc.). This allows for improved downstream processing and higher quality output for your production while simultaneously saving you time and money. Read more!
Hot Off the Press



The authority on late-breaking metalforming news. Stay ahead of the curve!

Today's News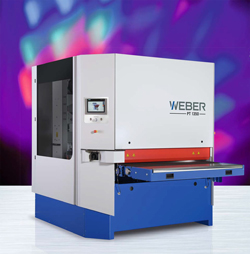 WEBER PT

The WEBER PT is the perfect deburring machine for lasered, punched and nibbled parts. It handles deburring, rounding, descaling and surface grinding of thin sheets and heavy plates. Up to 4 grinding stations allow for all machining variations. Improved accessibility for maintenance; modular design; and optional simultaneous top/bottom machining are just some of the advantages of the WEBER PT.
Hans WEBER Sales & Service, Olathe, Kansas 66071, 913-254-1611, sales@weberamerica.com, www.weberamerica.com
Don't Miss the Servo Technology Experience

September 25-26, Amway Grand Plaza Hotel, Grand Rapids, MI
Brought to you by PMA and MetalForming magazine, this is a great opportunity to become familiar with state-of-the-art servo technology used in presses, transfer systems, coil-feed lines and more. Aimed at engineers and technicians working in metalforming plants, as well as management, the event provides technical presentations and case studies describing how modern servo-based equipment can help stampers improve productivity and quality. Learn more and register.
The Industrial Internet of Things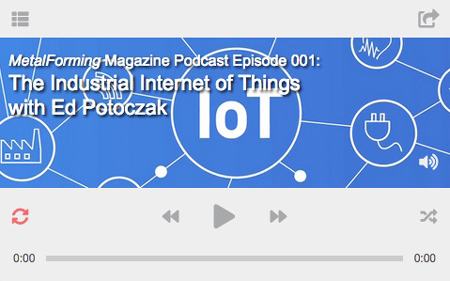 Ed Potoczak, managing member of the Oakstone Group, an industry-improvement consulting group in Rochester Hills, MI, shares with Brad Kuvin, publisher/editorial director of MetalForming, his insights on IIoT and how it will impact small and medium-sized metalformers and fabricators.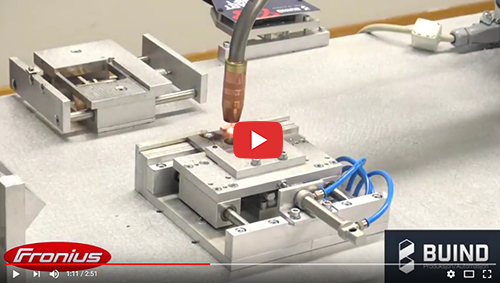 Check out this proof-of-concept robotic welding operation, from part assembly to complete part, developed by Norway-based Buind A/S, Denmark-based Universal Robots A/S and Austria-based Fronius International GmbH. The process can be automated without human intervention, allowing for 24/7 operation.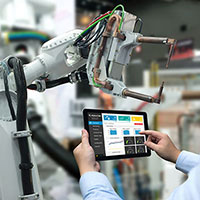 10 Reasons Why OEE's Importance is Soaring

Knowing availability, performance, and quality at the machine level is providing manufacturers with the data they need to keep production lines running efficiently. Learn why Overall Equipment Effectiveness (OEE) has become a must-have metric for manufacturers to create a more stable, predictable production environment that drives revenue growth. Learn More



Picking Up What Vacuum Cups Cannot

Transporter®LP magnetic end-of-arm tooling is designed to transfer metal blanks, stampings and parts in automated and robotic applications. Engineered with powerful Rare Earth magnets, they will hold parts during power loss, minimize part shifting, provide more options for picking up perforated or odd parts, and reduce shop air costs significantly compared to vacuum cups.
www.magnetics.com



September 2018


Subscribe | Become a Sponsor | Media Kit

Stamper's Success Is To Die For

Equipment and process changes ensure quicker die changes, increased press uptime and more at Northern Stamping, Inc.

New Feeds the Ideal Route for Auto Supplier

Downtime, cost comparisons and future work led Yorozu Automotive Tennessee to opt for new feeder-straightener packages rather than rebuilds.

Upcoming Issues
October: FABTECH Show Issue, Welding, Software for Manufacturing

November: Controls, Mechanical Presses, Waterjet Cutting

December: PMA Awards of Excellence, Automation, Quality/Inspection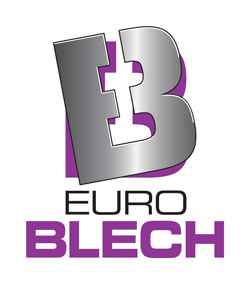 EuroBLECH 2018 - Register Today!

Join us October 23 – 26, 2018 in Hanover, Germany for the world's largest exhibition for the sheet metal working industry. Visit with over 1550 exhibitors to discover the latest trends and machinery and learn how digital transformation is playing a major role in the sheet metal working industry. Register HERE!





Registration is Open for Servo 2018

The Servo Technology Experience, presented by MetalForming magazine and the Precision Metalforming Association, brings you state-of-the-art servo technology used in presses, transfer systems, coil-feed lines and more. The event will provide technical presentations and case studies describing how modern servo-based equipment can help stampers improve productivity and quality. Learn more and register!





Save the Date: Metal Stamping and Tool & Die Conference

Kick off 2019 with a must-attend, info-packed event, the Metal Stamping and Tool & Die Conference, January 29-30 at the Nashville (TN) Airport Marriott. Presented by the Precision Metalforming Association in association with MetalForming magazine, the conference features keynote presentations, educational breakout sessions for stamping and tool and die, exhibits and a networking reception for more than 200 attendees and sponsors. Track sessions feature new, emerging, evolving and maturing technologies and industry trends that are impactful to metal stamping, die design and die construction companies. Get details and register.
See also: ARKU, Inc., Heyco Metals, Inc., Exair Corp, Hans Weber Co., IQMS Manufacturing ERP & MES, Industrial Magnetics, Inc.
Visit Our Sponsors