MetalForming Xtra Feature
July 25, 2018
Wednesday, July 25, 2018
If you are having trouble viewing this email, view it online
Follow Us on

Twitter | LinkedIn | Facebook | MetalFormingMagazine.com
Wanted: Reshoring Successes

The Reshoring Initiative, in conjunction with the Precision Metalforming Association (PMA), the Association for Manufacturing Technology (AMT) and the National Tooling and Machining Association (NTMA), is looking to recognize companies for successful reshoring projects through its second National Reshoring Awards program. Read more.

Automotive Tooling Study Shows Slow 2018 First Half with Indicators Pointing to Busy Second Half

Results of the Q2 2018 Automotive Tooling Barometer by The Original Equipment Suppliers Association, Troy, MI, and Harbour Results, Inc. (HRI), a market-research firm in Southfield, MI, show that the tooling industry experienced a slower-than-predicted 2018 first half, with a significant amount of business pushed to the second half. Read more.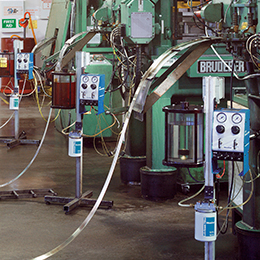 Consistent Stock-Lubrication Systems

Nordson EFD's MicroCoat® system uses LVLP (Low Volume, Low Pressure) technology to evenly coat stock while reducing oil usage up to 85%. This non-contact solution can be customized to any precision metal stamping application and is guaranteed to apply a consistent lubrication coverage while extending tool life. Learn more.
Hot Off the Press



The authority on late-breaking metalforming news. Stay ahead of the curve!

Today's News


Registration is open for Servo 2018

The Servo Technology Conference, presented by MetalForming magazine and the Precision Metalforming Association, brings you state-of-the-art servo technology used in presses, transfer systems, coil-feed lines and more. The event will provide technical presentations and case studies describing how modern servo-based equipment can help stampers improve productivity and quality. Learn more and register!
Plasma Cutters Help Give New Life to Old Semi Trailers

An Arkansas company, with a mission to employ veterans, also aims to repurpose trailer bodies into furniture and other products as an alternative to landfilling. Read more.
White Paper Details How to Achieve Premium Results with Plasma Cutting

Automated plasma-cutting systems can produce accurately cut parts. Because different gas combinations will react with the cut metal edge and affect weldability, selecting the appropriate gas combination is a key component in ensuring good quality. Read more.

August 16, Identifying Parts for Additive Manufacturing. Speaker: Kyle Adams, application specialist, SLM Solutions NA. Attendees will gain an overview of how to assess their components to take the first steps of implementing a metal additive manufacturing strategy. Register here.
August 23, How Metal Additive Manufacturing Delivers New Efficiencies in Lightweight Parts. Speaker: Bryan Newbrite, advanced aerospace applications leader, 3D Systems Corp. Learn to increase part functionality while reducing part weight and optimizing material usage. Register here.
Roaches and Robots Team Up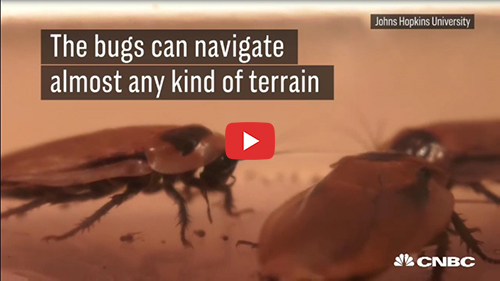 Scientists at Johns Hopkins are using cockroaches to teach robots how to move. Seriously.

See also: Heyco Metals, Inc., Nordson EFD, LLC, Bihler of America, Inc.
Visit Our Sponsors