MetalForming Xtra Feature
June 27, 2018
Wednesday, June 27, 2018
If you are having trouble viewing this email, view it online
Follow Us on

Twitter | LinkedIn | Facebook | MetalFormingMagazine.com
Report Reflects Tariff-Related Angst

A rising number of metalformers forecast a decline in business activity during the next three months, according to the June 2018 Precision Metalforming Association (PMA) Business Conditions Report. Responses from 109 participating companies reveal steel tariffs as a major factor in the projected decline. Read more.
Amada Metalforming and Tech Center Coming to NC

With a ceremonial groundbreaking last week in High Point, NC, attended by MetalForming magazine, Amada America, Inc. ushered in the construction phase for its High Point Technical Center and Manufacturing Center, expected to open in 2020. Company officials expect the campus to employ 200 associates when the facilities become fully operational. Read more.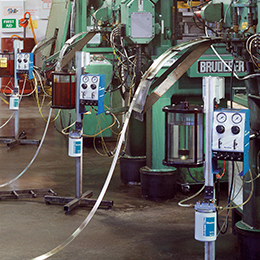 Consistent Stock-Lubrication Systems

Nordson EFD's MicroCoat® system uses LVLP (Low Volume, Low Pressure) technology to evenly coat stock while reducing oil usage up to 85%. This non-contact solution can be customized to any precision metal stamping application and is guaranteed to apply a consistent lubrication coverage while extending tool life. Learn more.





3D Metal Printing Experience and Tech Tour
August 8-9, Pittsburgh, PA

3D Metal Printing Experience and Tech Tour attendees will be able to interact directly with industry experts, learn about the latest technology developments for 3D metal printing and hear case-study presentations on 3D metal printing of dies and tooling, for maintenance and repair, and more. They'll also participate in exclusive plant tours at the GE Additive Customer Experience Center, and the Carnegie Mellon NextManufacturing Center, to engage with company representatives and view 3D metal-printing machines in action. Learn more and register to attend!
Hot Off the Press



The authority on late-breaking metalforming news. Stay ahead of the curve!

Today's News
Trumpf Unveils Expanded Training Center

Trumpf Inc. lifted the lid on its expanded training center with a ribbon cutting—more accurately, the cutting of a steel band—earlier this month in Farmington, CT. With a $3 million-plus investment, the company signaled its commitment to training and educating sheetmetal-fabrication customers and employees by adding 18,000 sq. ft. to the facility, which now totals 40,000 sq. ft. Upgrades include an interactive lobby, 14 state-of-the-art classrooms as well as two virtual-learning classrooms, an expanded machine floor for hands-on training, and an expanded, brighter cafeteria. Read more.
Reducing Parts Cost as Production Scales Up

For startups or smaller companies with more modest production requirements, avoiding the high upfront costs of hard tooling is appealing. As a result, fabrication alternatives that do not require a high tooling investment, even if the cost per piece is higher, may be the better initial choice. But what happens when demand increases and an OEM must scale up production? Read more.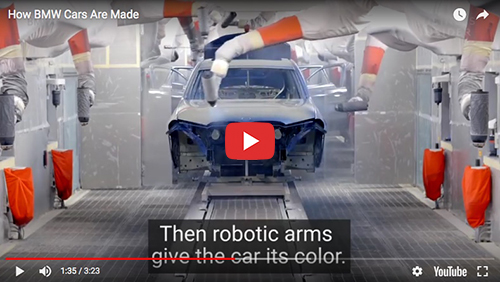 Inside the BMW Plant in Spartanburg, SC

Here, 500 robots and 450 employees work together to build BMWs. Check it out.



June 2018


Subscribe | Become a Sponsor | Media Kit

Lubrication Advice for Forming Aluminum

Selecting the right lubricant for aluminum stamping helps ensure maximum performance in the press, as well as compatibility with the aluminum alloy at hand, and ease post-processing work, such as welding.

Servos Well-Serve Progressive Dies

The ability to ease vibration and limit snapthrough shock, while optimizing stroke lengths and speeds, means longer tool life and greater throughput.

Upcoming Issues
July: Controls, ERP Software Roundup, Plasma Cutting

August: Hydraulic Presses, Servo Technology, Laser Cutting

September: Quick Die Change, Press Feeds, Cellular Manufacturing



See also: Nordson EFD, LLC
Visit Our Sponsors