MetalForming Xtra Feature
March 14, 2018
Wednesday, March 14, 2018
If you are having trouble viewing this email, view it online
Follow Us on

Twitter | LinkedIn | Facebook | MetalFormingMagazine.com
PMA and NTMA Issue Call to Action Following Tariffs

In the wake of President Trump's signed order to impose aluminum and steel tariffs—10 percent for aluminum and 25 percent for steel—the Precision Metalforming Association (PMA) and the National Tooling and Machining Association (NTMA) want members to tell Congress that tariffs will hurt U.S. manufacturing. The organizations are encouraging members to ask congressional representatives to urge the president to lift these tariffs as soon as possible to ensure that "U.S. manufacturers will still have access to globally priced raw materials in a timely manner so they can remain competitive and add jobs." Steel tariffs in 2002 reportedly resulted in the loss of 200,000 American manufacturing jobs (more than the number of jobs in the entire domestic steel industry) due to high steel prices.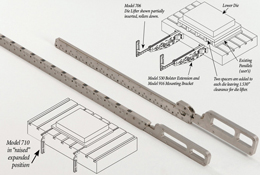 PFA Makes Quick Die Change Easy

Manually actuating PFA's Mechanical Die Lifters by hand allows easy movement of stamping dies. Portable and lightweight lifting rails service multiple presses saving money. Combined with open slot bolster extensions, challenging "flatbed" and "opposing slot" bolsters can also be configured for Quick Die Change.

Hot Off the Press



The authority on late-breaking metalforming news. Stay ahead of the curve!

Today's News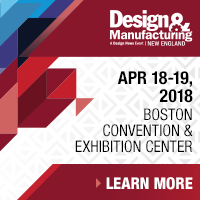 Design & Manufacturing New England

Design & Manufacturing New England is a powerful end-to-end industry showcase will cover up-to-the-minute innovations in design software, motion control components, rapid prototyping, 3D printing, wearables, sensors, and more. The expo provides the full spectrum of design, manufacturing, and process solutions showcasing exhibitors that provide the perfect package to New England's advanced design and manufacturing marketplace. Register now!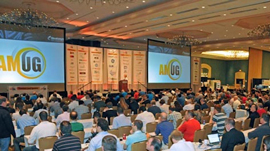 Join us in St. Louis for the Additive Manufacturing Users Group (AMUG) Conference

Participate in the conference designed for users, by users. Get ready for the biggest and best AMUG Conference ever. There will be more users at the event and more technologies represented. With AMUG's expanded scope, expert, intermediate and novice users of all commercial additive manufacturing technologies are welcome. Join us from April 8 – 12, 2018, in St. Louis, Missouri, to learn, exchange ideas and build your professional network.


Emerson CEO, NAM Chair Is Bullish on Manufacturing, but Sees Challenge Ahead

David Farr, CEO of St. Louis, MO-based Emerson Electric and chair of the National Association of Manufacturers (NAM), is bullish on manufacturing, though he says companies must do their part to address the skilled-labor shortage.

With the United States corporate tax rate falling from 35 to 21 percent, and with generous tax breaks for capital investments, Farr says that manufacturers now have "a competitive advantage." He expects European and Asian manufacturers to open factories in the United States to take advantage of the lower tax rate. If that scenario pans out, Farr says finding skilled labor could be challenging. NAM estimates that manufacturers have 365,000 unfilled jobs now and will need to fill 3.5 million jobs in the next seven years.

For its part, Emerson supports a business incubator/training center at Rankin Technical College in St. Louis, where students can gain an integrated work-based experience. Emerson also provides scholarships to 250 Rankin students. Farr adds that it's also important for manufacturers to upgrade their facilities to make them attractive work environments for young workers.

Manufacturing Posts Strong Job Gains

Manufacturers added 31,000 jobs in February, according to the U.S. Department of Labor's Bureau of Labor Statistics. Fabricated metal products (8000+), transportation (8000+), machinery (6000+) and primary metals (4000+) were the leading segments for job gains. Last year, manufacturers added 224,000 jobs.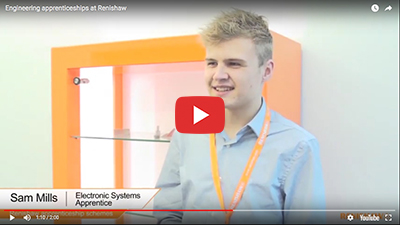 Apprenticeships Rock

Executives, technicians and students discuss their apprenticeship experiences at Renishaw.

IoT for Metalformers and Fabricators

Want to stay ahead of the coming wave of digital manufacturing and plant-floor connectivity, aka Internet of Things (IoT)? Then plan now to be in Nashville, TN, April 18-19, 2018, for MetalForming magazine's IoT for Metalformers and Fabricators event. Experts will discuss advancements in ERP/MRP software and sensor and control technologies as they relate to metalforming operations; will lay out a plan for developing and implementing IoT practices; and provide case studies describing successful IoT installations at stamping and fabricating plants. For details and to register, visit www.metalformingmagazine.com/iot/.




March 2018


Subscribe | Become a Sponsor | Media Kit

Die-Design and Simulation: A New Dawn

MetalForming takes a look at recent advancements in software that allow for accurate as well as time- and cost-saving die-design and simulation.

Press Controller: Simple to Add, Easy to Use

Metalformer Inland Tool Company discusses the benefits of installing a new controller on a used 800-ton mechanical straightside.

Upcoming Issues
April: Mechanical Presses, Stamping, Laser Cutting

May: Press-Line Automation, In-Die Feeding/Fastening

June: Lubrication, Welding, CNC Punching & Tooling



MetalForming : Jobs



Connecting job seekers and employers in the metal stamping, forming, fabricating and tool & die industries.

Plant Manager (PA)


Greif, Inc.
See also: PFA, Inc., Plex Systems Inc., Heyco Metals, Inc.
Visit Our Sponsors