MetalForming Xtra Feature
August 23, 2017
Wednesday, August 23, 2017
If you are having trouble viewing this email, view it online
Follow Us on

Twitter | LinkedIn | Facebook | MetalFormingMagazine.com
9 Percent Annual Growth Projected for CNC Tools

The global CNC-machine-tools market is projected to grow at a compound annual growth rate of more than 9 percent from 2017 through 2021, according to a market-research report by Technavio, which shows metal fabrication shops, automotive, aerospace, electronics and shipbuilding as the primary sectors for the technology.

The report credits six-axis CNC machines and new milling tools for driving the global CNC machine tools market: "The advent of the six-axis CNC machine has redefined machining operations. The capability of the machine to turn both ends of the fixture enables the raw material to be processed into a finished product without the use of multiple fixtures and other machining activities."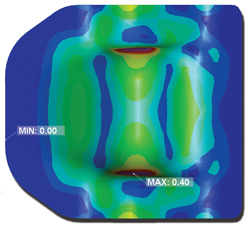 Uncover Design Flaws
with DYNAFORM

Uncover hidden design flaws before prototyping with accurate stamping simulations. DYNAFORM is a simulation software solution that allows engineers to accurately simulate stamping and Predict Formability Issues, Reduce Development Time, Validate Die Design, Improve Efficiency and Increase Profitability. DYNAFORM ensures the highest quality formed part & most efficient manufacturing process possible.

Try DYNAFORM Today

Hot Off the Press



The authority on late-breaking metalforming news. Stay ahead of the curve!

Today's News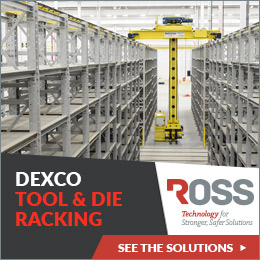 The Strongest, Safest, Smartest Tool & Die Racking on the Market.

Dexco Racks get your tooling, dies, and other manufacturing equipment off the floor and out of harm's way with high-strength shelves purpose-built for heavy-duty vertical storage. Optimize your operations with organized storage, increased floor space, reduced damage to critical equipment, and improved worker safety with Dexco Racks.

Report: AM Parts for Space to Approach $5 Billion by 2027

The annual value of parts made using additive-manufacturing (AM) processes for the space industry will reach $4.7 billion by 2027, driving $1 billion in annual sales of AM equipment, software and materials. This according to the Additive Manufacturing for Space Industry Applications report by Research and Markets. The report is believed to be the first-ever analysis of AM in the space market, which includes satellites, launch vehicles and spacecraft.





WESTEC: Your Technology Hub!

A showcase for global technologies and exhibitors, WESTEC 2017 ultimately provides you with the newest ideas to improve your operations and increase your profits. More than 500 leading manufacturers are waiting to show you the latest machining, metrology, design, digital, 3D printing and engineering innovations. Register for WESTEC 2017.



August 2017


Subscribe | Become a Sponsor | Media Kit

Press Feeds Pay Off

The results of Manitowoc Tool & Manufacturing's investment in new coil lines are, in a word, impressive.

Fiber Laser Moves the Tipping Point

A specialized process combines oxygen cutting with a fiber-laser machine to enable cutting of mild-steel sheetmetal ¼ in., and as thick as 3/8 in.

Upcoming Issues


September: Quick Die Change, Hydraulic Presses, Press Brake Forming

October: FABTECH Issue, Welding, Software for Manufacturing

November: Mechanical Presses, Controls, Safety Update, Women of Excellence Awards




The 2017 Servo Technology Experience is Coming—Register Today!

Are you ready for the 2017 Servo Technology Experience, presented by the Precision Metalforming Association (PMA) and MetalForming magazine? Aimed at engineers and technicians working in metalforming plants, this comprehensive program will provide technical presentations describing how modern servo-based equipment can help stampers improve productivity and quality. Visit the event website for a complete program agenda, a list of speakers and to register for the event.

Check Out This Popular Procurement Program!

Sourcing Solutions takes place on September 28 in Milwaukee, WI. This event brings together buyers and suppliers of fabricated metal parts, metal stampings, tooling and dies, assemblies, and more. Save time and money by having several meetings all in one day, in one location.
Metal Stamping and Tool & Die Conference

Join us for the 2018 conference, presented by PMA in association with MetalForming magazine, January 30-31 in Nashville, TN. The event will include track sessions featuring new, emerging and evolving technologies and industry trends that are impactful to metal stamping, die design and die construction companies.
See also: Universal Robots, ETA Dynaform, Heyco Metals, Inc., Dexco Industrial Storage
Visit Our Sponsors