MetalForming Xtra Feature
July 26, 2017
Wednesday, July 26, 2017
If you are having trouble viewing this email, view it online
Follow Us on

Twitter | LinkedIn | Facebook | MetalFormingMagazine.com
Wisconsin Reportedly Lures Huge Foxconn Plant

Taiwan-based Foxconn Technology Group reportedly has selected Wisconsin as the U.S. location of a $7 billion manufacturing plant, according to the Milwaukee Journal Sentinel. The company, which produces Apple's iPhone and Microsoft's Xbox, is expected to create anywhere from 5000 to 50,000 jobs at a new plant along with drawing supplier businesses, and Wisconsin has put plenty on the table to entice it.

"A plan to bring a massive Foxconn Technology Group plant to Wisconsin could cost $1 billion to $3 billion in local, state and federal incentives over coming years—a stunning sum for a project that backers say could transform the state's economy," reads the article. "An incentive package that reaches into the billions would be unlike anything Wisconsin has offered in the past and would require approval from state lawmakers."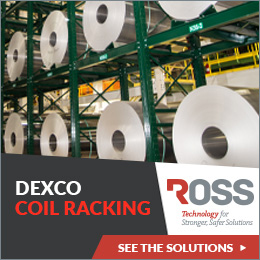 The Strongest, Safest, Most Durable Coil Racking on the Market

Dexco Coil Racks get your sheet coil off the floor and out of harm's way with generous vertical storage capacity on high-strength shelves with secure customized cradles. Take advantage of organized, easy access, increased floor space, reduced material damage, and improved worker safety with Dexco Coil Racks.


WESTEC: Your technology hub!

A showcase for global technologies and exhibitors, WESTEC 2017 ultimately provides you with the newest ideas to improve your operations and increase your profits. More than 500 leading manufacturers are waiting to show you the latest machining, metrology, design, digital, 3D printing and engineering innovations. Register for WESTEC 2017.

Hot Off the Press



The authority on late-breaking metalforming news. Stay ahead of the curve!

Today's News





Alumitech—Cutting, Forming and Joining Aluminum—Secrets to Success

MetalForming magazine is proud to be hosting Alumitech, a brand new program specifically created for metalformers and fabricators to discover the best practices to successfully cut, form and weld aluminum sheet and plate. This one-day program, taking place in Cleveland, OH, will address topics such as lubrication, tooling specification, and welding procedures and techniques. For the complete program agenda, list of presenters, hotel details and online registration, view the event webpage.
Failed Drug Tests Testing U.S. Manufacturers

Potential workers failing drug tests has been noted as a problem by The Federal Reserve in its recent Beige Book economic surveys, with opioid abuse a factor that hampers labor participation by those of prime working age, according to Federal Reserve Chair Janet Yellen. That troubling news is forwarded in an article at Theweek.com.

"But the abuse of prescription opioids and growing use of marijuana is being felt especially in the manufacturing sector, where up to half of applicants for good-paying factory jobs in the upper-Midwest rust belt fail their drug tests," reads the article, citing a report in The New York Times. "Untold others don't apply because they know they will fail."


Deadline Extended: Nominate Women of Excellence in Metalforming and Fabricating 2017

Once again in 2017, we are looking for women in leadership positions or on the shop floor, those who represent dedication to their company and the industry, and demonstrate excellence in meeting their workplace responsibilities.

MetalForming magazine is seeking nominations for its 2nd Annual Women of Excellence in Metalforming and Fabricating section, to run in the November 2017 issue. The section will feature and honor those selected as a means to recognize and promote the importance of women in the metalforming and fabricating industries.

Nominees should be employed by a manufacturer of metal parts and components or a supplier to the industry. Winners from 2016 are ineligible, but previous Honorable Mention recipients can be nominated. Fill out the form ASAP as the nomination deadline is August 11. Please nominate only one person from your company.

July 26, 2017


Subscribe | Become a Sponsor | Media Kit
2017 and Beyond
A futurist and expert in trends and innovation examines what he refers to as the "modern-day leadership dilemma"--heading toward the Jetsons when you have a bunch of Flintstones around!
Controls: Don't Disable
Investing in press and line controls leverages high technology to monitor, operate and optimize presses and entire lines. But the investment is wasted when users--and there are plenty--turn off key control functions or inputs.
Upcoming Issues

August: Servo-Press Technology—Case Studies, Press Feeds, Laser Cutting
September: Quick Die Change, Hydraulic Presses, Press-Brake Forming
October: FABTECH Issue, Welding, Software for Manufacturing




Check Out This Popular Procurement Program!

Sourcing Solutions takes place on September 28 in Milwaukee, WI. This event brings together buyers and suppliers of fabricated metal parts, metal stampings, tooling and dies, assemblies, and more. Save time and money by having several meetings all in one day, in one location.




The 2017 Servo Technology Experience is Coming—Register Today!

Are you ready for the 2017 Servo Technology Experience, presented by the Precision Metalforming Association (PMA) and MetalForming magazine? Aimed at engineers and technicians working in metalforming plants, this comprehensive program will provide technical presentations describing how modern servo-based equipment can help stampers improve productivity and quality. Visit the event website for a complete program agenda, a list of speakers and to register for the event.
MetalForming : Jobs



Connecting job seekers and employers in the metal stamping, forming, fabricating and tool & die industries.

Quoting Engineer (WI)


KMC Stampings
See also: Dexco Industrial Storage
Visit Our Sponsors