MetalForming Xtra Feature
May 24, 2017
Wednesday, May 24, 2017
If you are having trouble viewing this email, view it online
Follow Us on

Twitter | LinkedIn | Facebook | MetalFormingMagazine.com
Tax Reform the Key to More U.S. Manufacturing?

That's the question explored by David Melcher, president and CEO of the Aerospace Industries Association in a Washington Examiner op-ed. And, in a word, his answer is 'yes.' "By failing to modernize our tax code since the 1980s," he writes, "and by allowing the income of our domestic companies to be taxed whether earned domestically or abroad, we have allowed prevailing tax rates outside the United States to be a more important factor in business investment and location than whether the investment can create an American manufacturing job."

Melcher sees a domestic manufacturing boost via "a combination of a lower tax rate for repatriated earnings abroad with immediate expensing of business investment in equipment and operations, and with lower overall tax rates for businesses large and small."


Picking Up What Vacuum Cups Cannot

Transporter®LP magnetic end-of-arm tooling is designed to transfer metal blanks, stampings and parts in automated and robotic applications. Engineered with powerful Rare Earth magnets, they will hold parts during power loss, minimize part shifting, provide more options for picking up perforated or odd parts, and reduce shop air costs significantly compared to vacuum cups.
www.magnetics.com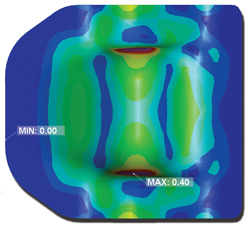 Uncover Design Flaws
with DYNAFORM

Uncover hidden design flaws before prototyping with accurate stamping simulations. DYNAFORM is a simulation software solution that allows engineers to accurately simulate stamping and Predict Formability Issues, Reduce Development Time, Validate Die Design, Improve Efficiency and Increase Profitability. DYNAFORM ensures the highest quality formed part & most efficient manufacturing process possible.

Try DYNAFORM Today
Hot Off the Press



The authority on late-breaking metalforming news. Stay ahead of the curve!

Today's News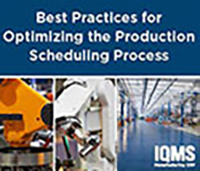 Coveted Tips to Boost Production Scheduling Efficiency

How can production can teams improvise, adapt and overcome production scheduling challenges? The whitepaper, Best Practices for Optimizing the Production Scheduling Process, highlights the coveted tools and best practices used by three manufacturers to boost production scheduling efficiency, cut costs, and increase plant capacity.
Addressing the Skills Gap: Think Local

"Next time you read or hear a bold proclamation on the truth or fiction of a national skills shortage, think about the complexity of our economy. All economics is local, and most skills gaps (if they're not information, training or wage gaps disguised as skills gaps) manifest themselves locally."

Such an approach can lead to effective responses to the skills-gap dilemma, writes Joshua Wright, director of marketing and public relations for Emsi, a labor-market-analysis firm, in an article at Areadevelopment.com. Using examples from its most recent study, Emsi targets local wage and unemployment statistics as indicators of how your search for talent should proceed. In any case, addressing skills-gap challenges most likely will follow familiar terrain.

"Manufacturers who are struggling to recruit workers have a few options," notes Wright. "They can increase wages. They can consider other, more talent-rich locations. Or they can invest in automation. Many will likely do a combination of these things."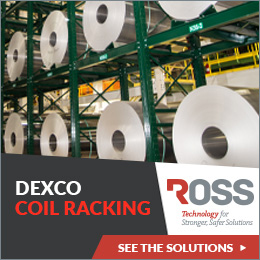 The Strongest, Safest, Most Durable Coil Racking on the Market

Dexco Coil Racks get your sheet coil off the floor and out of harm's way with generous vertical storage capacity on high-strength shelves with secure customized cradles. Take advantage of organized, easy access, increased floor space, reduced material damage, and improved worker safety with Dexco Coil Racks.

Nominate Women of Excellence in Metalforming

Once again in 2017, we are looking for women in leadership positions or on the shop floor, those who represent dedication to their company and the industry, and demonstrate excellence in meeting their workplace responsibilities.

MetalForming magazine is seeking nominations for its 2nd Annual Women of Excellence in Metalforming section, to run in the November 2017 issue. The section will feature and honor those selected as a means to recognize and promote the importance of women in the metalforming and fabricating industries.

Nominees should be employed by a manufacturer of metal parts and components or a supplier to the industry. Winners from 2016 are ineligible, but previous Honorable Mention recipients can be nominated. Fill out the form ASAP as the nomination deadline is June 30. Please nominate only one person from your company.
May 2017


Subscribe | Become a Sponsor | Media Kit
Straightening for Fineblanking—Not for the Faint of Heart
This fineblanking pioneer seeks and finds the ideal coil-feed line to suit its latest press, capable of meeting the dimensional-tolerance requirements for producing near-net-shape automotive-brake backing plates.
Leaving Money on the Table?
Yes, if you don't take advantage of R&D tax credits to grow your manufacturing business.
Upcoming Issues
June: Lubrication, Mechanical Presses, Punching
July: PMA 75th Anniversary Special Section, Automation/Controls, Plasma Cutting
August: Mechanical Presses-Servo Special Section, Press Feeds, Laser Cutting

Applying Carbide To Reduce Wear and Optimize Gripping:
The New Rocklinizer® Model 950

The Rocklinizer® deposits Titanium Carbide, Tungsten Carbide, and Rockhard electrode onto metals, tools and dies. This proprietary spark deposition process alleviates metal-on-metal wear, enhances gripping, maintains dimensions, and ultimately extends the useful life of machinery to delay or even avoid new equipment purchases.
The NEW Rocklinizer® Model 950 deposits as little as .0001" to .010" and higher onto the base material, all controllable within .0001" by digital machine setting for a precise application. The 100% portable Model 950 also offers the fastest application speed yet, a feature that is ideal for coating larger parts and dies.
To learn more, contact: Rocklin Manufacturing Co., info@rocklinmfg.com, www.rocklinmfg.com, (800) 255-6046
Die-Design Software and Simulation-Technology Experience

We are looking forward to seeing you at the 2017 Die-Design Software and Simulation-Technology Experience in Chicago, IL, on May 31-June 1. Presented by MetalForming magazine, this popular program will feature keynote presentations from industry experts, interactive discussions and demonstrations from leading suppliers on the newest technology and simulation software. Do not miss this opportunity to network with colleagues from other metalforming companies and learn about the latest developments to help improve your company's manufacturing performance. Visit the event website to learn more.
MetalForming : Jobs



Connecting job seekers and employers in the metal stamping, forming, fabricating and tool & die industries.

Tool and Die Maker (CA)


Hannibal Industries
See also: Industrial Magnetics, Inc., ETA Dynaform, IQMS Manufacturing ERP & MES, Heyco Metals, Inc., Dexco Industrial Storage, Praxair Surface Technologies, Rocklin Manufacturing Co.
Visit Our Sponsors