MetalForming Xtra Feature
May 10, 2017
Wednesday, May 10, 2017
If you are having trouble viewing this email, view it online
Follow Us on

Twitter | LinkedIn | Facebook | MetalFormingMagazine.com
Have Robot, Will Travel

That's the idea behind Ready Robotics, a Baltimore, MD, startup that is willing to rent its portable industrial robots for $1500-$4000 per month. The original focus was on medical applications, until the ownership group met Drew Greenblatt, owner of Baltimore-based Marlin Steel, a maker of industrial baskets and Precision Metalforming Association member. Greenblatt demonstrated on Marlin's shop floor how many uses a small manufacturer can have for portable robots.

As an article at Inc.com reads: "Ready Robotics' solution is a robotic arm that can be swiftly programmed to perform new tasks and is packaged with an assortment of grippers, pneumatic air tools and other peripherals that transform it into a kind of automated Swiss Army knife. The robot, which comes with a stand, can also operate existing tools such as lathes, mills and band saws, freeing up workers for more valuable assignments."




Picking Up What Vacuum Cups Cannot

Transporter®LP magnetic end-of-arm tooling is designed to transfer metal blanks, stampings and parts in automated and robotic applications. Engineered with powerful Rare Earth magnets, they will hold parts during power loss, minimize part shifting, provide more options for picking up perforated or odd parts, and reduce shop air costs significantly compared to vacuum cups.
www.magnetics.com

Hot Off the Press



The authority on late-breaking metalforming news. Stay ahead of the curve!

Today's News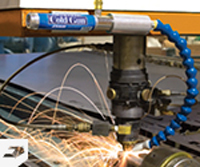 Machining Without Coolant

Replace messy mist systems and improve dry machining with clean, cold air! EXAIR's Cold Gun Aircoolant System improves tolerances, tool life and production rates by cooling with 20°F air. The Cold Gun is ideal for tool sharpening, drill and cutter grinding, milling, band sawing, more.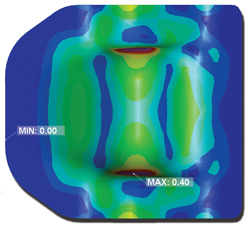 Uncover Design Flaws
with DYNAFORM

Uncover hidden design flaws before prototyping with accurate stamping simulations. DYNAFORM is a simulation software solution that allows engineers to accurately simulate stamping and Predict Formability Issues, Reduce Development Time, Validate Die Design, Improve Efficiency and Increase Profitability. DYNAFORM ensures the highest quality formed part & most efficient manufacturing process possible.

Try DYNAFORM Today
IAMD USA to Run Concurrent with FABTECH in Chicago this Fall

FABTECH 2017 rolls into McCormick Place November 6-9, along with an expected 1700-plus exhibitors and more than 40,000 attendees. And alongside, for the first time, Integrated Automation, Motion & Drives, or IAMD, from Hannover Fairs USA.

The new IAMD trade show, reports The Tradeshow News Network, will showcase production, process and energy automation systems, robotics, industrial IT, hardware and services, production technologies and services, transmission and fluid power components and systems, pneumatic and hydraulic systems, plain and rolling bearings, geared motors, linear technology, and sealing technology.

That adds to the FABTECH stable of offerings, which includes new technology for metalforming, fabricating, welding and finishing needs. For more on attending or exhibiting at FABTECH, visit www.fabtechexpo.com.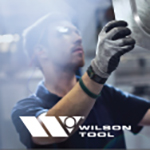 Punch Press Tooling that Outperforms

Wilson Tool's punching division drives the industry with high levels of service, quality and innovation. Offering a wide variety of tooling styles including; thick turret, fab/thin turret, Trumpf®, Wiedemann® and Salvagnini®. In addition to standard designs, Wilson Tool is known for solving the most challenging fabrication issues through special designs.


Germany's Manufacturing Percentage Dwarfs That of U.S. What Can We Learn?

Manufacturing accounts for nearly a quarter of Germany's gross domestic product (GDP), double the percentage of the United States. Why the discrepancy, and what can we learn from the German manufacturing model to help rebuild U.S. middle-class manufacturing jobs? It's complicated, reports Hermann Simon in Harvard Business Review. Simon traces German manufacturing success to its 'Hidden Champions,' or extremely successful small to mid-sized businesses.

"But how replicable is (Hidden Champions') success?" he asks. "While other countries could try to emulate aspects of what makes the Hidden Champions so successful, the reasons for their success are the result of a complex network of factors, many of them historical." These factors include stable, long-term leadership, a long history of international competitiveness, and a favorable tax structure, to name a few.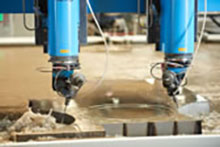 Jet Edge Waterjets Ideal for Service Centers

Built for industrial use, Jet Edge waterjets are available in a wide range of sizes, 5'x5' to 24'x13.' Add multiple cutting heads to maximize productivity. Service center applications include cutting bevels for weld preparation, cutting parts to near net shape, cutting exotic materials, and HAZ-free and slag-free cutting. www.jetedge.com
May 2017


Subscribe | Become a Sponsor | Media Kit
Die-Development and Simulation Software
...evolves at a lightning-fast pace. That's why MetalForming magazine and PMA developed an annual conference, back in 2012, focused on this technology. This years event, slated for May 31-June 1 in Chicago, IL, features a whos-who of subject-matter experts.
Better Tooling for Super-Strong Steels
That's the goal of a recent study pairing tool and coating combinations to produce parts from advanced high-strength steels.
Upcoming Issues
June: Lubrication, Mechanical Presses, Punching
July: PMA 75th Anniversary Special Section, Automation/Controls, Plasma Cutting
August: Mechanical Presses-Servo Special Section, Press Feeds, Laser Cutting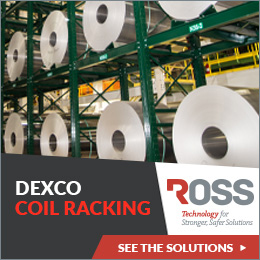 The Strongest, Safest, Most Durable Coil Racking on the Market

Dexco Coil Racks get your sheet coil off the floor and out of harm's way with generous vertical storage capacity on high-strength shelves with secure customized cradles. Take advantage of organized, easy access, increased floor space, reduced material damage, and improved worker safety with Dexco Coil Racks.

MetalForming : Jobs



Connecting job seekers and employers in the metal stamping, forming, fabricating and tool & die industries.

Tool and Die Maker (CA)


Hannibal Industries

Die-Design Software and Simulation-Technology Experience

We are looking forward to seeing you at the 2017 Die-Design Software and Simulation-Technology Experience in Chicago, IL, on May 31-June 1. Presented by MetalForming magazine, this popular program will feature keynote presentations from industry experts, interactive discussions and demonstrations from leading suppliers on the newest technology and simulation software. Do not miss this opportunity to network with colleagues from other metalforming companies and learn about the latest developments to help improve your company's manufacturing performance. Visit the event website to learn more.

MetalForming Everywhere

Do you want access to breaking industry news, new-product introductions, Twitter updates andMetalForming magazine articles, and the ability to register for events right from your smart phone or tablet? Download MetalForming magazine's new mobile app, MetalForming Everywhere, and stay connected with your industry. Download MetalForming Everywhere here.
See also: PRAB, Inc., Industrial Magnetics, Inc., Exair Corp, ETA Dynaform, Impax Tooling Solutions, A Div. of Wilson Tool International, IQMS Manufacturing ERP & MES, Heyco Metals, Inc., Jet Edge Waterjet Systems, Dexco Industrial Storage, Praxair Surface Technologies
Visit Our Sponsors