MetalForming Xtra Feature
April 12, 2017
Wednesday, April 12, 2017
If you are having trouble viewing this email, view it online
Follow Us on

Twitter | LinkedIn | Facebook | MetalFormingMagazine.com
Video: Automatic Refrigerator-Door Production Line

This 1-min. video showcases a fully automatic production line shipped recently by Fagor Arrasate for the manufacture of several models of refrigerator doors The line begins with a double-blank destacker, which moves blanks to miter notching and piercing stations by means of high-speed manipulators. Parts then transfer to interpolated bending and end-flanging stations, where long and short sides are bent to obtain the final door shape. Next is a door-separating station, followed by end- and contour-flanging stations. The line produces complete door sets in 12 sec.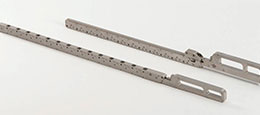 PFA Makes Die Positioning Easy

PFA Mechanical Die Lifters are actuated by hand to the lifted position prior to die insertion and then released to lower the die. They are portable and can be taken from press to press. These units can be used in multiple presses, greatly reducing QDC equipment costs.
Hot Off the Press



The authority on late-breaking metalforming news. Stay ahead of the curve!

Today's News

Die-Design and Simulation-Technology Experience

We are looking forward to seeing you at the 2017 Die-Design Software and Simulation-Technology Experience in Chicago, IL, on May 31-June 1. Presented by MetalForming magazine, this popular program will feature keynote presentations from industry experts, interactive discussions and demonstrations from leading suppliers on the newest technology and simulation software. Do not miss this opportunity to network with colleagues from other metalforming companies and learn about the latest developments to help improve your company's manufacturing performance. Visit the event website to learn more.

MetalForming Everywhere

Do you want access to breaking industry news, new-product introductions, Twitter updates andMetalForming magazine articles, and the ability to register for events right from your smart phone or tablet? Download MetalForming magazine's new mobile app, MetalForming Everywhere, and stay connected with your industry. Download MetalForming Everywhere here.
More Structured Management Among Southern and Midwestern Manufacturers

Manufacturing companies in the Southern and Midwestern United States follow "structured-management practices" more so than their counterparts in the Northeast and West. So finds a survey conducted by the U.S. Census Bureau, collecting more than 35,000 responses from some 50,000 establishments.

Highlights:
Companies with more employees generally have higher levels of structured management adoption than do smaller establishments.
More than 80 percent of establishments track three or more key-performance indicators (KPIs), which include metrics on production, cost, waste, quality, inventory, energy, absenteeism and on-time deliveries. About 30 percent of companies track 10 or more KPIs, and half of U.S. manufacturers establish a combination of long- (more than 1 yr.) and short-term (less than 1 yr.) production targets on these metrics.
Here's more.
April 2017


Subscribe | Become a Sponsor | Media Kit
Hot Stamping: Local Soft Zones Via Laser
As steels get stronger, hot stamping with localized softening--now very localized via lasers--is a game changer in automotive applications.
In-Die Micropin Insertion
A Cleveland, OH, precision metalformer solves a unique in-die insertion challenge by working with its vendor to custom-design a sensor-laden die and special pin-feed system to avoid time-consuming and costly secondary operations.
Upcoming Issues
May:Stamping Higher Strength Steels, Press Feeds, Waterjet Cutting
June:Lubrication, Mechanical Presses, Punching
July: PMA 75th Anniversary Special Section, Automation/Controls, Plasma Cutting
Learn How to Rank Progressive-Die Strip Designs

Compare the latest developments in die-design, development and simulation software at the Die-Design Software and Simulation-Technology Experience presented by MetalForming magazine and the Precision Metalforming Association! The event will be held May 31-June 1, 2017, in Chicago, IL. The agenda includes presentations describing tooling innovations for stamping higher-strength steels (by John Catterall, executive director, Auto/Steel partnership), and the fundamentals of the forming-limit curve and associated forming modes, and their relationship to simulation results.

A conference highlight: a roundtable discussion on how to rank progressive-die strips so that the best possible strip design is chosen.

Learn more and register to attend.
MetalForming : Jobs



Connecting job seekers and employers in the metal stamping, forming, fabricating and tool & die industries.

Director of Engineering


Jagemann Stamping Company (WI)
See also: PFA, Inc., Universal Robots
Visit Our Sponsors